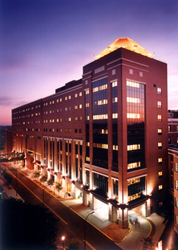 Pittsburgh, PA (PRWEB) September 09, 2014
West Penn Hospital, part of the Allegheny Health Network, is now offering a free screening program to patients at risk of lung cancer in hopes of catching the disease in as many patients as possible at its earliest and most curable stages.
The U.S. Preventative Services Task Force recommends annual screening for lung cancer with low-dose computer tomography (LDCT) in adults age 55 to 74 who have a 30 pack-year history of smoking (a pack a day for 30 years, or two packs a day for 15 years), and either currently smoke or have quit within the past 15 years. Consumer Reports cites CT lung cancer screening as among "The Cancer Tests You Really Need" for long-term smokers.
"The National Lung Cancer Screening Trials showed that low-dose CT scans save lives, reducing lung cancer mortality by 20 percent," said Lana Schumacher, MD, a thoracic surgical oncologist and Co-Director at the Esophageal and Thoracic Institute at Allegheny Health Network. "Unfortunately, most patients are not treated for lung cancer until they become symptomatic, when the disease is well advanced. With preventative screening, we can identify cancer at an early, more treatable and potentially curable stage."
Screening is based at West Penn Hospital's Esophageal and Thoracic Institute as part of a pilot project, with future plans to implement the program throughout the Allegheny Health Network.
Physicians from the hospital's thoracic radiology and pulmonary medicine divisions are also providing multidisciplinary support to the initiative. The CT screening test itself requires no preparation or contrast injections.
Highmark provided a grant to support the development of the project, consistent with its goals of increasing access to life-saving preventive services.
The program is designed to make screening simple and effective, Dr. Schumacher said. Patients can schedule an appointment by calling 1-844-AHN-LUNG. They will be then contacted by a lung cancer Nurse Navigator who will educate them on the screening process and the implications of test results.
The Navigator will guide patients through follow-up care if necessary as well as on critical disease prevention measures such as smoking cessation classes. Participants are not obligated to return to an Allegheny Health Network facility for treatment or follow up.
"Screening is not an excuse for smokers to continue smoking," Dr. Schumacher said. "Smokers continue to put themselves at high risk for not only lung cancer but a host of other smoking-related diseases. Smoking cessation efforts are an essential aspect of this program."
All participants are eligible for smoking cessation services, even those who call to inquire about screening but do not qualify.
Allegheny Health Network is developing a database that tracks participants – their demographics, smoking history, test results and follow-up recommendations – to demonstrate the value of this preventative health care program.
Lung cancer is the third most common cancer in the United States and the leading cause of cancer death. Smoking is the cause of about 85 percent of all lung cancer cases, and the risk increases with age. About 37 percent of U.S. adults are current or former smokers.
It's estimated that following the U.S. Preventative Services Task Force screening recommendations would save 20,000 lives a year in the U.S. The screening program offered at Lahey Medical Center in Boston, which Allegheny Health Network's program is modeled on, has saved an estimated 18 lives in under two years.
In addition, the cost of care rises as cancer is diagnosed at a late stage. The average cost of care for a Stage IV cancer patient is twice as high as care for a Stage I patient.
"With this initiative, our goal is to advance the health and well-being of our patients and the community by bringing more awareness to the cancer risks associated with smoking and the importance of early lung cancer diagnosis on both patient outcomes and the overall cost of care," Dr. Schumacher said.
###