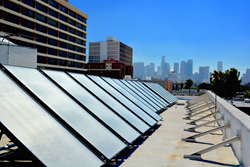 Promise Energy is very happy to partner with leading environmental groups like LARC and EDF to help showcase the enormous solar opportunity here in Los Angeles
Los Angeles, CA (PRWEB) September 09, 2014
On August 26th, Promise Energy hosted a group of local policymakers, academics, environmental organizations and utility representatives to showcase key strategies for addressing climate change and reducing urban heat island effect in Los Angeles. In collaboration with the Los Angeles Regional Collaborative for Climate Action and Sustainability (LARC) out of UCLA's Institute of the Environment and Sustainability (IoES), and the Environmental Defense Fund (EDF), Promise Energy led the group on a tour of two multifamily affordable housing projects in the heart of Central Los Angeles.
Located within a half mile of each other, the projects feature cool roofs; as well as solar systems designed by Promise Energy that will provide hot water and electricity for low-income families and senior citizens. While both projects provide much needed housing for Los Angeles' low-income population, the two projects also showcase approaches to increasing energy efficiency for two very different types of buildings.
The first, Coronado Place Apartments, developed by Deep Green Housing, is a retrofit of an existing brick building nearly a century old. The 18 collector thermal array, and a cool roof retrofit on the building's Built-Up Roofing (BUR) system, keep the apartments cool in the summer months while providing water heated naturally by the sun. The second, Knob Hill Apartments, developed by Veloce Partners, is a brand new building in its final phases of construction, and has a 21 collector thermal system and 19.2 kW PV system in combination with a thermoplastic TPO cool roof.
"What's great about these strategies is they can be implemented for both retrofits of existing buildings and new construction projects," said Andy Mannle, VP of Strategic Development for Promise Energy. At Coronado, the cool roof and solar thermal system were designed and installed for the existing roof layout. By contrast, the Knob Hill project was designed to accommodate a host of sustainability features.
"Building to high levels of sustainability requires a lot of strategic planning from the very beginning of the process," said Jonas Villalba, VP Project Development for Promise Energy. "Instead of building from the ground up, it's almost like we have to design it from the roof down. First we collaborate closely with the architect, developer, and energy modeler to find the best possible energy efficiency solutions for the project, and then we find a way to fit everything on the roof."
The tour was timed around the release of The Los Angeles Solar and Efficiency Report (LASER) published by UCLA's Luskin Center in collaboration with EDF. The report stresses that Los Angeles County is leaving 98% of its solar capacity untapped, and mentions that achieving just 10% of LA's rooftop solar potential could create 47,000 jobs and reduce emissions equivalent to removing half a million cars from the road. The report also highlights the fact that 38% of LA County residents - nearly 3.7 million people - live in communities burdened by air pollution and vulnerable to increased days of extreme heat from climate change.
"I grew up in the Lincoln Heights neighborhood of East Los Angeles," said Jorge Madrid of EDF, "and it's been incredibly energizing and fulfilling to see the green economy become a reality in a place like Los Angeles. Making clean energy accessible to everyone, including folks living in affordable housing, is incredibly meaningful."
Installing cool roofs in addition to solar thermal and photovoltaic systems is an important strategy for not only reducing a building's energy consumption, but also for minimizing the impacts of the urban heat island effect that can make cities several degrees warmer than the surrounding countryside and contribute to heat-related illness and casualties. Incorporating cool roofs into residential projects is now becoming law in Los Angeles, thanks to one of LARC's member organizations Climate Resolve.
"Climate Resolve spearheaded the drive to pass the Cool Roofs Ordinance in the City of Los Angeles which will be a requirement on new construction projects in October, and on retrofit projects in January. The Los Angeles Department of Water and Power (LADWP) will also be providing rebates for cool roofs." said LARC's Krista Kline.
"Promise Energy is very happy to partner with leading environmental groups like LARC and EDF to help showcase the enormous solar opportunity here in Los Angeles. We have millions of square feet of roof we can use to reduce the burden of fossil fuel pollution, while simultaneously creating jobs and lowering energy costs for some of the most disadvantaged communities in the country," said Adam Boucher, CEO of Promise Energy. "With careful planning and strategic design, we can create safe and healthy spaces where people of all economic and social standings can thrive for generations to come."
About The LARC:
The Los Angeles Regional Collaborative for Climate Action and Sustainability is a network designed to encourage greater coordination and cooperation at the local and regional levels by bringing together leadership from government, the business community, academia, labor, environmental and community groups. The purpose of this collaboration is to share information, foster partnerships, and develop system-wide strategies to address climate change and promote a green economy through sustainable communities. LARC is a collaborative organization, based on the principles of dialogue and shared purpose. It is housed at the UCLA Institute of the Environment and Sustainability (IoES).
About Environmental Defense Fund:
Environmental Defense Fund's mission is to preserve the natural systems on which all life depends. Guided by science and economics, we find practical and lasting solutions to the most serious environmental problems. We work to solve the most critical environmental problems facing the planet. We work in concert with other organizations — as well as with business, government and communities — and avoid duplicating work already being done effectively by others.
About Promise Energy:
Promise Energy Inc, is a full-service solar solutions provider, delivering integrated financing, design, and installation for multifamily and commercial projects throughout California and the Western United States. Promise Energy partners with building owners and residents to save energy and reduce operating expenses, with solar water heating and solar photovoltaics.. The company is currently working on solar for over 2000 units of affordable housing across Southern California, as well as other market-rate and commercial projects. To find out more, contact us at http://www.promiseenergy.com.