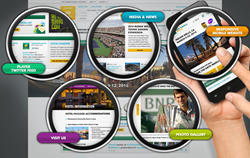 Our new site offers an elevated user experience, providing unmatched access to the latest BNP Paribas Open news, scores and schedules and relies heavily on social media, including a new social fan zone
Indian Wells, California (PRWEB) September 11, 2014
The 2015 BNP Paribas Open, to be held March 9-22, 2015 at the Indian Wells Tennis Garden, has launched a new custom website. The new website, which can be accessed at http://www.bnpparibasopen.com utilizes responsive design to enable fans to engage with content on any device. It also features significantly more robust, dynamic and larger imagery in a more streamlined layout.
The new website also showcases the "Serving Up the Action Online Sweepstakes," which can be entered from http://www.bnpparibasopensweeps.com beginning on Wednesday, September 10th and concluding at midnight (Pacific Time) on Friday, September 19. After answering four questions about the new website, fans will be entered to win a number of prizes, including a chance to watch tennis superstars and former champions like Maria Sharapova, Rafael Nadal, Roger Federer and more:

Grand Prize: 2015 BNP Paribas Open Grand Prize Vacation Package for two including box seat tickets, two night's accommodations in a luxury Indian Wells property, tournament gift bag, and complimentary shuttle service between the hotel and the tournament.
Indian Wells Luxury Hotel Prize: Complimentary two night stay (room and hotel tax) at an Indian Wells luxury resort property, including spa treatment, golf and tennis for two (dates to be determined).
Tournament Prizes: Ten individuals will be chosen to win an assortment of BNP Paribas Open gifts including player autographed items or tickets to the 2015 BNP Paribas Open.
"Our new site offers an elevated user experience, providing unmatched access to the latest BNP Paribas Open news, scores and schedules and relies heavily on social media, including a new social fan zone," said Dee Dee Felich, Assistant Tournament Director. "We wanted to offer a seamless site that showcases the amenities that Indian Wells and the BNP Paribas Open have to offer, while also providing an exclusive sweepstakes to give individuals the chance to experience the best in professional tennis and a spectacular destination at the 2015 tournament."
For more information and to order ticket packages, please call the Indian Wells Tennis Garden Box Office, (800) 999-1585, or visit http://www.bnpparibasopen.com where there is a complete listing and description of all ticket packages and pricing.