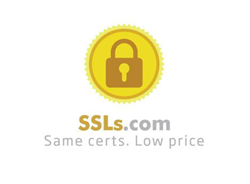 New York, NY (PRWEB) September 10, 2014
The trusted SSL certificate shop SSLs.com has recently begun accepting Bitcoin as payment. SSLs.com is the first SSL store in the world to have implemented Stripe's support for Bitcoin payments.
What is Bitcoin?
Bitcoin is the most widely used crypto-currency. With Bitcoin, customers are able to make online transactions in minutes. Bitcoin payments are available worldwide, across all computer networks, including in countries where PayPal payments are not supported. Bitcoin payments are fast and secure, and they incur lower transaction fees than other payment methods.
How Does Bitcoin Work?
With Bitcoin, customers are not required to provide their real names. To use Bitcoin, the customer needs only to create a Bitcoin wallet and order Bitcoins using one of several methods. Bitcoin enables customers to purchase goods and services securely and anonymously.
About SSLs.com
SSLs.com is a US-based SSL certificates store with global presence, a member of the Namecheap group of companies. Since 2004, SSLs.com has been keeping websites and web users securely connected with quality SSL certificates. Visit SSLs.com to learn more.
In addition to Bitcoin, SSLs.com also accepts VISA, MasterCard, American Express and PayPal as payment.