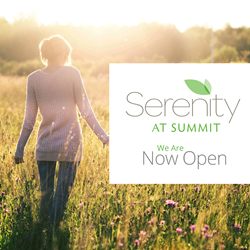 This holistic detox treatment program is unique to Serenity at Summit and offers many benefits unavailable through other treatment types.
Union, NJ (PRWEB) September 09, 2014
Serenity at Summit, now accepting patients, provides a medically supervised, holistic drug and/or alcohol detox program that focuses on long-term addiction recovery. Treating the complex mental and emotional issues that surface when clients undergo detox, Serenity at Summit's program is the first step for the client toward a total recovery from substance abuse and addictions. All of the therapy and recovery programs are individualized, based on the client's personal situation.
This holistic detox treatment program is unique to Serenity at Summit and offers many benefits unavailable through other treatment types. Some of the benefits of the holistic detox treatment methods are:

Recognition that the client is more important than the illness.
Respect for the fundamental nature of the client's beliefs and lifestyle.
Focus on treatment that is the least liable to do harm.
Treatment that is more cost-effective than standard therapies.
The treatment team will perform a preliminary assessment. This initial assessment will be used to determine the underlying causes of the client's addiction. Based upon the results, they will collaborate with the client to create a medically supervised, comprehensive, individualized, holistic treatment care plan. Treatment is shaped so that each client is as comfortable as possible during the detoxification. Unlike standard detox programs, the treatment approach is motivational. This process creates the foundation for long-term recovery. Upon completion of a successful detoxification, the client is assisted in locating an ongoing treatment program that will meet his or her particular needs.
Serenity at Summit's program utilizes both Individual and Group Holistic Therapy. Their integrative wellness programming, centering on mindfulness and life skills, is tailored to facilitate healing of the mind, body and spirit.
Holistic medicine concentrates on care of the whole person - body, mind, and spirit. It integrates traditional and complementary treatments to encourage optimal health, and to also prevent disease by focusing on contributing factors. Each individual is seen as a unique, not simply a disease to be treated. Illness is recognized as the product of an imbalanced combination of physical, emotional, spiritual, social and environmental factors. When balance is restored, healing can take place.
Serenity at Summit provides holistic drug and alcohol detox in NJ. They are located in Union, New Jersey. Their unique, 40-bed facility can comfortably accommodate and provide treatment resources for many people at various stages of treatment and recovery. Their center provides clients with state of the art care and individualized detox treatment. It is a nurturing environment with a highly qualified treatment staff that allows clients to heal and recover in comfort. The knowledgeable and experienced staff at Serenity at Summit utilizes only the most up-to-date therapeutic techniques available.
By treating the mind, body and spirit, the Serenity at Summit program helps clients to better incorporate wellness into all areas of their lives, eliminate the need for drugs or alcohol and begin their journey toward total recovery.