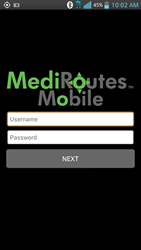 The trend in the industry is 'Bring Your Own Device' BYOD; we want to support that. MediRoutes Mobile gives our clients that option as we now have a unified user interface across all three major platforms: Windows Phone, Android and iOS (iPhone and iPad
Phoenix, AZ (PRWEB) September 11, 2014
Today Schedule Viewer, LLC announces the release of its updated dispatching software MediRoutes Mobile across all three major mobile platforms: Windows Phone, Android and Apple iOS. The application has been enhanced to better link non-emergency medical transportation drivers with their dispatchers and to integrate seamlessly with the company's other platforms, MediRoutes and ParaRoutes.
MediRoutes Mobile takes advantage of smartphone technology to implement an easy-to-use application that NEMT drivers love, encompassing a real-time manifest, two-way messaging, GPS tracking, map visualization, a "Tomorrow" function, and routed and turn-by-turn directions. It provides everything that a costly in-vehicle mobile data terminal does at a fraction of the cost.
"The trend in all industry is 'Bring Your Own Device' or BYOD; we want to support that," says Schedule Viewer Founder Steve Smith. "MediRoutes Mobile gives our clients that option as we now have a unified user interface across all three major platforms: Windows Phone, Android and iOS (iPhone and iPad)."
Advantages of MediRoutes Mobile
The new update contains some significant enhancements from the previous version:

Full schedule display for "Tomorrow" button
Odometer capture at driver login and logoff
Optional odometer capture per event specified by Funding Source
Optional driver signature capture per event
Ability to select signature capture at pickup, drop-off or both for passenger and driver
Driver signature capture at logoff
Better communication architecture including confirmation of all messages sent at logoff
A new "Make Next" command, allowing the driver to change the order of the schedule on the fly
More secure – optionally requires driver pass code to login
More reliable – Securely records all driver actions: arrive, perform, signatures and odometer readings in local storage on device and only removes those items when they have successfully been sent to server, allowing for the phone to lose cellular data service or even be power cycled without losing driver performed actions.
Message screen now shows all incoming and outgoing messages since login
New schedule change screen shows what events have been added, removed or changed
These enhancements are in addition to the features that existed in the previous version of the application. MediRoutes Mobile provides real-time dispatching, sending the driver's manifest to his or her phone with driving time, a GPS location of each vehicle, and the distance to scheduled pickups and drop-offs. Instant updates enable drivers and dispatchers to see where the drivers are at all times, real-time GPS coordinates, and time stamps for each pickup and drop-off performed with signature capture of the passenger at the time of service.
Schedule Viewer's dispatching software helps NEMT providers administer a quality experience for their clients at an affordable cost to their business. MediRoutes users have mentioned several additional benefits to the application, including:
Using the MediRoutes application and security overlays assists clients in being HIPPA compliant by taking a paper driven business and converting it to a paperless environment, from point of service all the way through to billing.
Using MediRoutes' solutions can help prevent potential fraud. Providers can document the date and time of service by time and GPS location of all services at the point of care. MediRoutes takes that documentation a step further by capturing the patient's signature electronically at the time of service.
MediRoutes reduced one customer's AR aging from over 45 days to less than 21 days through creating faster and better documented billing, using the application's software. Instead of taking 30 days from the time of service using a paper system, clients are able to properly invoice the next day.
Using MediRoutes has helped increased employee morale for both drivers and office workers by providing a more relaxed and in-control experience and less stressful work environment.
About Schedule Viewer, LLC
Schedule Viewer, LLC is a software company founded in 2008 that develops cloud-based software solutions for the people transportation industry. The founding members bring over 50 years combined experience and a history of producing innovative and transformative solutions.
Internet, smartphone and cloud-computing technologies have dramatically changed the nature of software development and deployment. As a forward-looking company, Schedule Viewer is innovating the use of these new platforms, unencumbered by "legacy" systems to maintain and support.
MediRoutes and ParaRoutes are ground breaking products built using proven, standard tools and designed to be deployed in the cloud. They feature a full range of scheduling and dispatching solutions that are affordable and easy-to-use. If you would like to learn more about Schedule Viewer, LLC, or the MediRoutes and ParaRoutes products, please contact Myron Hammes at (480) 393-3009, toll free at (855) 393-3009 or email info(at)scheduleviewer(dot)com.
Schedule Viewer has created practical solutions to an unsolvable problem – to learn more please visit our web site at http://www.scheduleviewer.com.