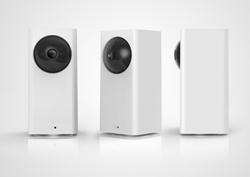 San Jose, CA (PRWEB) September 09, 2014
iSmart Alarm, Inc is exhibiting at the annual CEDIA expo show in Denver, CO to showcase their new products, on pre-sale in September and shipping in November to the US, Canada, and Europe. Most exciting amongst them is the brand new version of their iCamera, the real-time streaming video camera included with the iSmartAlarm Home Security Premium Package.
The new iCamera KEEP, the next evolution of security monitoring and visibility, will begin pre-sale in the next few weeks. The iCamera KEEP is designed to work with the iSmartAlarm Home Security System or as a stand-alone Wi-Fi device. With a 1280x720 resolution, motion and sound detection, and free on-demand streaming video control and cloud-storage, the iCamera KEEP provides comprehensive home visibility with no monthly fees and no contracts. The motorized unit allows for wide range pan-tilt, night vision, multiple user support, as well as multi-iCamera support. Users will receive text, phone call, email, and push notifications on their smartphones in case of emergency or user-defined rules and conditions.
First on the market in 2013, the iSmartAlarm Home Security System is the company's flagship product, a self-monitored, smartphone-controlled home security system emphasizing a 21st century spin on traditional security systems. The iSmartAlarm Home Security System is sleek, expandable, and completely DIY.
Also on display, the iSmartAlarm Smart Switch allows users to remotely control their electrical outlets, see when their lighting is turned on or off, ensure potentially dangerous appliances are turned off when not in use, and monitor energy usage. Automated schedules can be set up to secure the premises, to create the impression of a family at home, and provide physical safety so the user will never have to walk into a dark home again. Multiple Smart Switches can cross-communicate with other devices in the smarthome ecosystem to automatically turn on lights or machines in case of a break-in.
iSmart Alarm Inc. will be exhibiting these new products at the CEDIA (Custom Electronic Design & Installation Association) show in Denver September 11-13 in booth 1104. Held annually, the show focuses on the $14 billion home technology industry worldwide, with over 3,500 member companies and 22,000 industry professionals that manufacture, design, and integrate goods and services for the connected home.
"The Internet of Things, and the ever-growing interconnectivity of smart devices, is one of the most exciting evolutions in home security and technology today," said Raymond Meng, co-founder and CEO, iSmart Alarm. "Our goal is to give our users the smartest and most customizable system for home control, security, comfort, and connectivity."
For retail partnership opportunities with iSmart Alarm please contact Tim Hill at: tim.hill@ismartalarm.com or call 510-379-8353
Visit iSmart Alarm, Inc at booth 1104 at the CEDIA Expo show at the Colorado Convention Center in Denver, CO for the latest in devices, functionality, and app updates.
iSmartAlarm Social Media:
Twitter: http://www.twitter.com/iSmartAlarm
Facebook: http://www.facebook.com/iSmartAlarmInc
YouTube: https://www.youtube.com/user/iSmartAlarminc
About iSmart Alarm, Inc.
iSmart Alarm, Inc. was founded in Silicon Valley in 2012 on the principles of safety, beauty, and intelligence. They designed and developed the best smartphone-enabled home security and home control system. The sleek, sophisticated system allows users to be in complete control of their home and safety with their Apple and Android devices. iSmartAlarm products are cool, simple to use, and affordable to everyone.