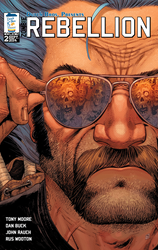 It's great to work with passionate, talented people. - Travis Boersma, Co-founder Dutch Bros. Coffee
GRANTS PASS, Ore. (PRWEB) September 11, 2014
Dutch Bros. Coffee has teamed up with Walking Dead co-creator Tony Moore to create Issue 2 of the Dutch Bros. Rebellion: Further Adventures of Rebel Man Comic Book.
Brant Boersma, Dutch Bros. Director of Culture, has been a fan of Tony's work for quite some time. When the opportunity to meet Tony came up, Brant jumped. They met for coffee, and through a shared love of comics they immediately became friends.
"We are super stoked to have Tony on board for the Dutch Bros. Rebellion," said Brant with his infectious humor. "It's great to work with him. He is so handsome and brilliant with a pencil."
The Dutch Bros. Rebellion: Further Adventures of Rebel Man is a short, full-color comic. Written by Dan Buck, penciled and inked by Tony Moore and colored by John Rauch. It follows Issue 1, Dutch Bros. Zombie Rebellion, which was black and white drawn by Jeff Wester and written by industry star Nathan Edmonson.
Dutch Bros. Coffee employs a large number of comic book enthusiasts, among them company Co-founder Dane Boersma's son Brant, who is editor-in-chief. In addition, Dan Buck, Dutch Bros. Creative Director, wrote Issue 2.
"Comic books are an accessible way of telling stories," said Dan Buck. "You care about a character and cannot wait to see what happens next."
Dutch Bros. Coffee will be at Rose City Comic Con, September 20-21. The Dutch Bros. Rebellion, Issue 2 will be available at the Dutch Bros. booth. In addition, Tony Moore will be on-hand to sign copies.
About Tony Moore
Tony Moore is a comic book artist, best know for his work on Fear Agent, The Walking Dead and numerous other titles.
To learn more about Tony Moore visit http://tonymoore.tumblr.com
or Instagram @tonymooreillustration, Twitter @tonymoore
About Dutch Bros. Coffee
Dutch Bros. Coffee is the country's largest privately held, drive-thru coffee company, with over 220 locations and over 2,500 employees in seven states.
Dutch Bros. serves specialty coffee, smoothies, freezes, teas and a private-label, Dutch Bros. Blue Rebel™ energy drink.
The rich, proprietary coffee blend is handcrafted from start to finish. Every ingredient is measured, every process timed, and every cup perfected.
Known for upbeat baristas and genuinely caring service, Dutch Bros. Coffee was ranked by J.D. Power and Associates as highest in customer satisfaction for two consecutive years in its 2012 and 2013 Specialty Coffee Retailer Satisfaction Reports℠.
With a mission of, "Making a Difference, One Cup at a Time," Dutch Bros. donates over $1 million annually to nonprofit organizations and local causes selected by local owner-operators.
Dutch Bros. Coffee is headquartered in Grants Pass, Ore., where it was founded in 1992 by Dane and Travis Boersma, brothers of Dutch descent.
To learn more about Dutch Bros., visit http://www.dutchbros.com, like Dutch Bros. Coffee on Facebook or follow @DutchBros on Twitter.
###
FOR MEDIA ONLY
Contact: Dan Buck / 541.761.4884 / pr(at)dutchbros(dot)com