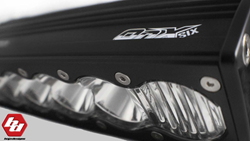 We really wanted to step it up with our OnX6™ LED light bar. We have found some great new technologies that allow us to make a Brighter, Bolder, Better LED Light Bar. – Alan Roach
San Marcos, CA (PRWEB) September 11, 2014
The best just seems to keep getting better. It's clear that the Scientists of Lighting at BD are committed to continuous innovation and each new product shows their never ending dedication to research and development. The ground breaking performance of the new OnX6™ is the result of that dedication.
Every once in a while a new product comes along that doesn't just make a ripple, but in fact makes a wave. The NEW OnX6™LED Light Bar has been redesigned and restructured to be Brighter, Bolder and Better all around. At an impressive 6450 lumens per 10" section and backed by both a 30 Day Satisfaction Guarantee and their Limited Lifetime Warranty; the new OnX6™ is exactly what they say...Brighter. Bolder. Better.
What's New?
First, similar to computers, technological advances have allowed BD to introduce a brand new price point for the OnX6™ and many of their other products. Next, they added two more reflectors per section resulting in a LED light bar that is up to 50% brighter. But they weren't done yet, they integrated their trademarked, High Speed Spot Reflector giving you the same performance that race teams like Vildosola and McMillin Racing use on their race winning trophy trucks. Lastly, BD understands the importance of establishing industry standard sizing, which is why the OnX6™ is available in 10", 20", 30", 40", 50" and 60" sizes. Industry standard sizing means that the OnX6™will be compatible with aftermarket mounting systems, making installation easier than ever.
All in all, the new OnX6™ is Brighter, Bolder and Better!
About Baja Designs
For 20+ years Baja Designs has engineered revolutionary ways to stay at the forefront of motorcycle and automotive lighting. The first product developed was a Dual Sport kit that made a pure off road motorcycle minimally street legal. This intimate knowledge of motorcycle electrical capabilities led to a natural evolution to engineer the first HID motorcycle race light. Owner/Lead engineer Alan Roach and Product Development Engineer Stephen "Tex" Mitchell were avid Baja 1000 motorcycle racers who were able to fine tune a motorcycle's limited light optics to maximize rider comfort, speed and safety. As a result, BD lights have won every professional and amateur motorcycle and ATV Baja 1000 class for over 15 years.
As our engineers and racers advanced to truck and buggy racing, the next evolution began. The engineers quickly adapted their race winning HID motorcycle lights to their new race vehicles. With amazing speed, BD HID lights were adopted by the vehicle race community and could be found on the majority of Baja 1000 winning vehicles. In the process, BD engineers became well known as "The Scientists of Lighting" and were sought out by professional race teams to develop and aim their vehicle lighting.
LED lights were the next natural evolution of lighting and BD was the first company to develop a forward projecting LED light bar which was introduced and raced in the 2005 Baja 1000. That original LED light bar has evolved into a line of the highest performing and race winning LED lights on the market.
Revolutionizing industry leading lights is not just a job at BD, but a lifelong passion for both the owners and employees. The BD product line is dedicated to being BRIGHTER, BOLDER, and BETTER, which is why we truly are "The Scientists of Lighting".