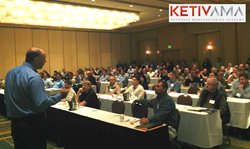 Brea, CA (PRWEB) September 09, 2014
Kanwar Anand, President and CEO of KETIV, an Autodesk Platinum Partner, announced open registration for KETIV Autodesk Manufacturing Academy (AMA) 2014, the premier one-day training event for mechanical design and engineering professionals and executives to help them build better products.
"We're pleased and honored that Carl Bass will again keynote at KETIV AMA in Cerritos," said Mr. Anand. "He'll share his thoughts on how new mindsets, skillsets, and toolsets are changing the way customers imagine, design, and create."
Co-sponsored by Autodesk, the Academy is held in two locations:

Attendees will learn about solutions that combine design and lifecycle management software workflows to engage and support the entire organization. KETIV AMA classes will cover impact modeling, simulation, collaboration, and a glimpse into the future manufacturing and important trends. For details including sessions, instructors, and how to save on tuition, visit http://ama.ketiv.com or phone Kathy Ortega at 866.465.3848.
About KETIV Technologies
KETIV is a business consulting firm that helps people build better products by providing tools, training, and support to facilitate informed decisions in the earliest stages of development. Founded in 1983 as one of the first AutoCAD resellers in the country, KETIV is an Autodesk Platinum Partner. KETIV has California offices in Brea, Burbank, Sacramento and San Jose and offices in Portland, Oregon, Seattle, Washington, and Phoenix, Arizona. An award-winning and recognized leader in our field, KETIV serves businesses across the country and around the world.