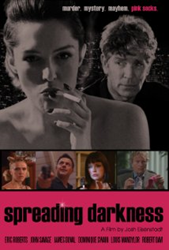 (PRWEB) September 09, 2014
Without Chemicals and Black Elephant Productions will host a RED CARPET special sneak screening of SPREADING DARKNESS; a psychological thriller with a black comedic undertone starring Eric Roberts ( The Dark Knight with Christian Bale), Dominique Swain (Face/Off with Nicolas Cage), Robert Davi ( License to Kill with Timothy Dalton), John Savage ( The Deer Hunter with Robert De Niro).at the Westwood Crest Theatre 1262 Westwood Blvd, Westwood, CA 90024 (Friday, September 12th) at 7 p.m. (Red Carpet: 7 p.m .- 8 p.m.; Screening: 8 p.m.). The special screening is followed by an after party for those attending. This psychological thriller with a comedic twist is directed by Josh Eisenstadt and written by Josh Eisenstadt and Aaron Pope. Synopsis: Follow corrupt CEO (Eric Roberts) into a world of insanity as his former victims stalk him under the influence of a psychiatrist (John Savage) who rewards their good "behavior" with pink socks
BOUDOIR (short film), a psychological horror short, will precede the screening of SPREADING DARKNESS; also starring Dominique Swain and Deneen Melody. Directed and written by Gina Lee Ronhovde. Cinematography by Will Barratt (FROZEN, HATCHET I&II), edited by Ed Marx (SWIMMING WITH SHARKS, JEEPERS CREEPERS) with sound & music by John Neff (THE STRAIGHT STORY, MULHOLLAND DRIVE). Synopsis: A mysterious client psychologically tortures an agoraphobic photographer during a routine boudoir photography session, escalating into a battle to stay alive.
Talent from Spreading Darkness expected to grace the Red Carpet Special Screening: Eric Roberts, Dominique Swain, Robert Davi, John Savage, Musetta Vander, James Duval, Irene Bedard, Blanca Blanco, Bonnie Aarons, Shayla Beesley.
Also expected: Editor Duwayne Dunham (RETURN OF THE JEDI, BLUE VELVET), Composer Phil Marshall (THE BEACH, SECRETARY) Jennifer Lynch, Austin Lynch, Grace Zabriskie, Chris Mulkey, Walter Olkewicz, Tiffany Shepis, Kimmy Robertson, Martha Smith, Olivia Barash, Robert Engels, David Schroeder, John Neff and Greg Travis.
To request an RSVP: email: aja90210(at)gmail(dot)com by 5 p.m., September 11th,2014 seats will be either confirmed or denied based on availability, please include company and full contact information; no plus one.
Media Inquiries: Interested in covering the event or conducting an interview; contact Infinity Films + A.J. Adelman & Associates - Integrated Marketing, Media, Sponsorships Events, Publicity & Promotions http://www.infinityajpr.com at aja90210(at)gmail(dot)com