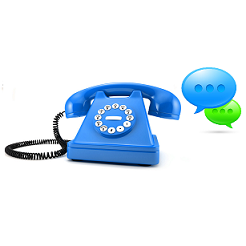 Businesses can have now one number for voice and text and do not have to give out their personal mobile numbers for business anymore and keep business communication separate from personal
New York, NY (PRWEB) September 09, 2014
TXTImpact Business Text Message proprietary platform allows businesses to connect with customers via text message. Businesses can communicate with customers, employees, partners using easy to use on-line text messaging web apps, Outlook Add-In, Email to text, and mobile application. TXTImpact flagship text message to email service allows contact centers to integrate texting without using any add-ons or software.
The service will allow business customers to send or receive text messages with their existing land line. The text messages from customers can be pushed to a business email, Outlook, desktop computers and smart phones. Business users can reply directly from their email, Outlook, cloud web application or mobile application.
Consumers today are more responsive to text messaging over any other communication channel simply because they carry their phones with them wherever they go. This is an opportunity for businesses to communicate using text messaging with mobile users, employees, field-staff and customers with their existing business land line phone number. Customers and field-staff do not need to remember multiple phone numbers.
In particular, businesses can now use their business phone land line number for non-marketing text messages use cases such as customer service, One to one text messaging, order pickup text alert, store closing alerts, weather alerts to employees, recruit temp staff, payment reminders, appointment reminders, and many more.
For more information, visit: TXTImpact Business text message service
About TXTImpact
TxtImpact is a leading SMS marketing and business text messaging provider based in USA. It has been providing SMS marketing software, text messaging services, text message marketing, mass text messaging, mobile marketing platform, and mobile web solution since 2002. TXTImpact is focused on providing self managed text message marketing and SMS gateway tools for creating SMS Auto Responder, Text Survey, SMS Polling, Text alerts, Text Voting, Text to Win, Group Texting, Text Trivia, Text for info, Mobile QRcode, Mobile websites, office SMS communication tools and complete with enhanced reporting and analytics to measurable campaigns effectiveness. TxtImpact MMA compliant hybrid self managed campaigns management suite allows clients to execute a mobile strategy to create successful and measurable mobile marketing campaigns. TxtImpact has successfully launched many SMS marketing campaigns for retails giants, financial, logistic companies, mobile banking etc combining text messaging with mobile web to create engaging mobile marketing campaigns.
Contact:
Susan Raj
1 (800) 209-2188
Susan(at)TXTImpact(dot)com