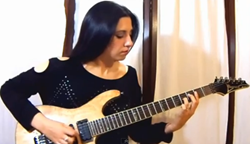 (PRWEB) September 09, 2014
In this rhythm guitar lesson, now available on YouTube.com, Alejandra Mesliuk teaches how to play the solo from the song Angel by Judas Priest. The solo starts off in the minor pentatonic scale and is played in the key of F#m (F sharp minor). The solo makes shifts into the natural minor scale and incorporates the techniques of hammer-on's, pull-off's, slides and bending. Alejandra plays the solo at tempo so you can hear how it should sound and then she breaks it down slowly so you can easily follow along and not miss any notes. Guitar TAB's are available for this easy lead guitar lesson at GuitarControl.com.
Judas Priest is an English Heavy Metal band formed in 1969 in Birmingham England. The band is known for their double lead guitar and operatic style vocals. Vocalist Rob Halford is a pioneer of the studded leather look associated with heavy metal bands and is known as the Metal God. They have released 17 albums over the course of their career and have sold over 45 million albums worldwide.
Alejandra Mesliuk
Alejandra Mesliuk is from Buenos Aires Argentina. She studied jazz guitar harmony and under the method in Temperley Berklee School of Music by Ariel Ferreyrola. She has been an area teacher and clinician for the last 10 years in electric guitar, classical, and musical language. She is currently working on a solo album.
About GuitarControl.com
GuitarControl.com is the leader in modern guitar instruction. It's packed with recourses including articles, video lessons, and the best videos in the business for the beginner to the advanced guitar student taught by the best instructors out there. Weather you are into the blues, rock, jazz, metal, folk, or anything in between, they have you covered.