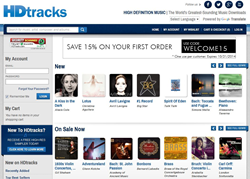 (PRWEB) September 09, 2014
HDtracks.com, the world leader and pioneer in high resolution audio digital downloads, is pleased to announce the launch of its popular online store, http://www.HDtracks.com, in Germany and http://www.HDtracks.co.uk in the United Kingdom. With today's announcement, German and UK music fans who want to experience music the way it was meant to be heard will now be able to enjoy the most extensive catalog of their favorite music in unprecedented audio quality, via HDtracks.
HDtracks high-resolution audio downloads provide listeners with sonic precision, clarity and depth heretofore absent in the digital music world. To celebrate the launch of HDtracks in both Germany and the United Kingdom, the company plans to offer media outlets and their readers' special discount and promotional codes, in addition to offering contests and other promotions to stimulate consumer interest.
Helping Spur Innovation and Growth for Hardware Manufacturers
Notably, the explosive growth of HDtracks and the success of the high-resolution audio download format has also helped spur innovation and growth for hardware manufacturers. Makers of both personal audio and home audio products, seeking new ways to appeal to the tens of millions of consumers around the world who have embraced digital downloads as their primary source of music delivery, are creating products that maximize audio performance and bring to life all the richness and sonic excellence of the new format.
David Chesky, co-founder of HDtracks.com, noted: "The tremendous success of HDtracks since our launch in 2007 and continued growth is a real indication that consumers all over the world are hungry for better quality music sound. As pioneers in the fast-growing new category of high-resolution music downloads, we're very excited to expand our business into the German market, where consumers have long demonstrated their strong interest in the best possible quality audio performance."
Huge Selection of High-Res Downloads with Unprecedented Audio Quality
HDtracks has succeeded in creating the world's largest catalog of high resolution audio digital downloads, offering the industry's broadest range of music and styles. The HDtracks catalog continues to expand at an ever-increasing rate, with the addition of both new artists and legendary audio recordings re-mastered in high resolution audio formats, including artists such as Daft Punk, Led Zeppelin, Michael Jackson, Paul McCartney, Miles Davis, and many, many more.
Free Music Sampler Now Available
HDtracks offers new customers the ability to download, for free and with no obligation, a sampler album of high resolution uncompressed audio tracks. The HDtracks 2014 Sampler features a variety of music genres including classical, classic acoustic guitar, jazz and new age tracks, from renowned artists such as Ottmar Lieber and Tori Amos, and is a wonderful introduction to the world of high resolution audio.
HDtracks also offers consumers the ability to choose from multiple uncompressed high resolution audio file types, including FLAC (free lossless audio codec), ALAC (Apple lossless audio codec), AIFF (audio interchange file format) and WAV (PCM). The HDtracks website provides helpful guidance to consumers as to which file type they should choose, according to their playback software and playback hardware (PC, portable music player, iTunes, etc.).
About HDtracks.com
HDtracks.com is the leading high-resolution digital download company in the world. Founded in 2008 by three-time Grammy nominee and highly respected record producer and musician, David Chesky, and his brother Norman, HDtracks.com created the high-resolution audio format. They were the first to convince the major labels that there was a viable market in high-resolution audio. Today, the company works with every major label and hundreds of independents and has led the way for hardware manufacturers to create new products for the ultimate enjoyment of high-resolution audio.
David and Norman Chesky have produced more than 500 albums with highly acclaimed artists in classical, jazz, and world music, and established Chesky Records as one of the most respected audiophile music labels in the word. For more than twenty-five years, Chesky has been at the forefront of audio technology, having created the world's first 24-bit/96kHz recordings, 6.0 multichannel 24-bit/192kHz DVD-Audio Disc layout, 128x oversampled recordings, and Binuaral+ for 3D sound playback on both loudspeakers and headphones
PRESS CONTACT FOR HDtracks.com: Sara Trujillo, sara@trujillopr.com