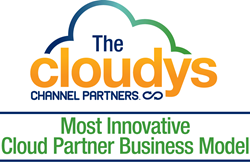 "We are honored to be recognized by Channel Partners for our eight-year relationship as an AT&T Solutions Partner." Jeff Kaplan
(PRWEB) September 09, 2014
PHOENIX – Sept 9, 2014 – Channel Partners , a resource for indirect sales channels offering IT and telecom solutions, is pleased to announce that Breakthrough Technology Group (BTG) has been selected as a winner of the 2014 Cloudys Cloud Channel Innovation Awards.
Twenty-five winners were honored during an awards ceremony on Sept. 8 at Cloud Partners, a Channel Partners event, in New Orleans. These winners will be featured in a Channel Partners' November/December print issue as well as a digital issue that can be downloaded from The Cloudys Immersion Center at http://www.channelpartnersonline.com/cloudys.
"The response to the inaugural Channel Partners Cloudys awards has been overwhelmingly positive," said Khali Henderson, Editor-in-Chief of Channel Partners. "This program rewards innovation across the cloud ecosystem and success in a world where traditional distinctions among developer, vendor, provider and partner blur."
Breakthrough Technology Group was awarded the 2014 winner for the Most Innovative Cloud Partner Business Model.
"We are honored to be recognized by Channel Partners for our eight-year relationship as an AT&T Solutions Partner. We have worked to bring together best in class software and hardware to create customized private cloud solutions for our customers," said Jeff Kaplan, CEO of Breakthrough Technology Group.
BTG delivers private cloud solutions that are flexible and scalable, designed for enterprises with a singular focus on security and privacy. The foundation upon which all BTG private cloud solutions are built is a secure and redundant infrastructure housed in geographically diverse AT&T data centers nationwide.
To determine the winners of The Cloudys, companies completed an application that asked them to demonstrate how they are driving innovation in the cloud channel — either for their partners or for their business customers.
Channel Partners editors evaluated and scored all applications to determine the winners in five categories, including:

Most Innovative Cloud Service
Most Innovative Cloud Customer Deployment
Most Innovative Cloud Partner Business Model
Most Innovative Cloud Best Practice
Most Innovative Cloud Enablement Tool
About Informa
Informa is one of the world's leading knowledge providers. We create and deliver highly specialized information through publishing, events, training, market intelligence and expertise, providing valuable knowledge to individuals, businesses and organizations worldwide including the emerging markets of India, China and South Africa.
Our Academic Publishing division publishes books and journals with over 93,000 titles available worldwide. Our expertise spans a broad range of sectors, from architecture, civil engineering, physics and law, to energy, nursing, education and health. We provide essential and world-class reference materials for academics and professionals, in addition to a host of handbooks and textbooks for students. Using the latest publishing technology, we deliver titles to customers in whatever format they choose.
Through our Business Intelligence division we offer a range of information services including breaking news and views, proprietary data and the latest research and analysis. By providing business critical information Business Intelligence delivers lasting advantage to companies, organisations and governments, enabling them to make valuable and profitable decisions in highly competitive international markets.
Our Global Events division complements the information services of Business Intelligence and Academic Publishing by providing vital face-to-face networking opportunities enabling companies and individuals to develop, improve and compete. In this global knowledge based economy, the emphasis is on being connected. This is where our standing as one of the world's largest organisers of exhibitions, trade conferences and seminars comes into play. Informa produces over 3,000 events across the world every year, allowing communities to meet, share and develop ideas, profile new products and services, build relationships and, ultimately, do business.
About Channel Partners Magazine
Channel Partners magazine is the leading publication for telecom and IT distribution channels. For more than 25 years, Channel Partners has been the undisputed leader in providing news, analysis and education to the indirect sales channels serving the business technology and communications industry. In addition, Channel Partners online (http://www.channelpartnersonline.com) delivers a constant content stream of unique and breaking industry news, feature articles and premium downloadable content. As official media of the Channel Partners Conference & Expo (http://www.channelpartnersconference.com) and Cloud Partners (http://cloud.channelpartnersconference.com), Channel Partners is the market leader that channel professionals turn to first.
ABOUT BREAKTHROUGH TECHNOLOGY GROUP, LLC.
Breakthrough Technology Group (BTG) is a leading provider of secure private cloud, connectivity and managed IT solutions. As the highest revenue-producing AT&T Alliance Channel Platinum Solution Provider over the past several years, BTG focuses on solutions that are purpose built on reliable, flexible and scalable platforms to deliver business value to customers while meeting their ever changing IT, telecom and private cloud needs. Founded in 2007, BTG maintains a singular focus on supporting mid-market enterprise customers, solving problems through the use of advanced technology and telecommunications. The inherent knowledge base of the Company's veteran team spans the entire IT landscape from cloud-based server, desktop and storage solutions, to messaging services and managed infrastructure. With a hyper-focus on specific IT practice areas and a deep understanding of carrier networks, BTG has proven itself to be an unquestioned leader and industry pioneer.