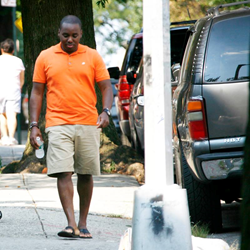 I am more uncomfortable with the persecution of Bruce Levenson, than I am of with what I read in that email. As a business owner, and from what I read, Mr. Levenson was directly speaking to the metrics of his business
New York, New York (PRWEB) September 09, 2014
If you haven't heard by now, the Atlanta Hawks' owner Bruce Levenson is going to sell his team, because of the recent backlash over "racist" comments found in an email that he sent.
If you ask Abdel Russell, the email sent from Bruce Levenson only contained details about what he (Levenson) thinks are some of the opportunities concerning the profitability of his team; especially how much money is being made, or could potentially be made, if some things were different.
While at a listening session for an upcoming single for his Hip Hop artist La ' Vega, Mr. Russell was asked about his recent decision to open up his company's office in Manhattan, instead of Downtown Brooklyn.
He replied that an office in the Downtown Brooklyn area, would attract too much unwanted traffic. His response sparked some controversy with several media outlets, and became a hot topic within certain Brooklyn communities.
Since then he has compared his statement to what the owner of the Atlanta Hawks said, and says he feels no shame in telling anyone that Bruce Levenson said nothing wrong, in the version of the email that he read.
Abdel Russell, AKA "Sosa" said "I am more uncomfortable with the persecution of Bruce Levenson, than I am with what I read in that email. As a business owner, and from what I read, Mr. Levenson was directly speaking to the metrics of his business, it's opportunities, and his concerns. So what if the word Black People was mentioned. The majority of the Blacks he was referring to were not the kind of people that can help his business reach it's desired goals. Its just business. America has become too PC."