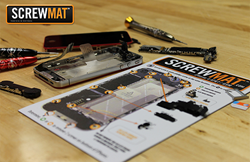 The ScrewMat for iPhone 6 will soon be available to help repair centers meet the vast demand of their customers.
Las Vegas, NV (PRWEB) September 09, 2014
ScrewMat®, the original and most popular magnetic guide for smartphone repair keeps all of the tiny parts and screws organized for higher productivity and accuracy. ScrewMat will be available in all 29 variations for giveaway at the Phone Doctors booth #4676 at Super Mobility Week in Las Vegas from Sept.9 to Sept.11. This offers guests a close-up look at how much easier phone and mobile device repairs can become with the right tools.
"We know that getting repairs done quickly and correctly the first time improves customer satisfaction and increases profits. We realized several years back that with the fast growth of the industry, that there was a real need to develop new tools like the ScrewMat to streamline and perfect the repair process." Said Tony Baker, Director of Marketing and Sales for ScrewMat.
ScrewMats prevent the loss of pin-sized screws and parts from mobile devices since these tiny pieces easily connect to the durable magnetic mat. To keep parts organized, each mat has an exact diagram of the specific device with color-coded symbols to show where each part belongs as well as helpful tips to serve as productivity reminders. After four years of experience and development, the latest ScrewMats are now available with and without complete tool kits to save repair time for all popular mobile devices including:

Apple iPhones
Apple iPads
Apple iPod Touch Devices
HTC phones
Motorola phones
LG phones
Samsung phones
"The ScrewMat for iPhone 6 will soon be available to help repair centers meet the vast demand of their customers. We're extremely happy to serve our industry in a manner that recycles the inevitable broken device right back into the marketplace. This not only helps everybody save time and money, but it is environmentally responsible." Said Baker.
Guests are welcome to come and see the Phone Doctors booth exhibit on the show floor at Super Mobility Week in Las Vegas. This provides an ideal venue to let both technicians and hobbyists witness firsthand just how useful ScrewMats are during complex mobile-device repairs. This special display also gives guests the rare opportunity to personally ask their questions to the creators of this clever tool and learn more. Visitors can find the Phone Doctors booth by its number on the show floor: 4676. Super Mobility Week takes place this year at the Sands Expo and Convention Center and also features keynote speakers like the CEO of Zappos, Tony Hsieh, the CEO of Twitter, Dick Costolo, and many other mobile industry leaders.
Daily show giveaways will include the Complete Start Up Technicians ScrewMat Collection, valued at up to $640 each. For more information, please contact Tony Baker by calling 918-955-1000 x1010 or by visiting: http://ScrewMat.com/ctia/
About ScrewMat:
Phone Doctors invented ScrewMat® in 2010 to more efficiently and easily fix and replace parts from cellphones, smartphones and other handheld mobile devices. The ScrewMat® is suitable for both professional technicians and amateurs alike. ScrewMat is currently available in over 28 popular models, including phones, tablets, and other mobile devices. ScrewMats are created based on the input and demand of the mobile device repair industry. For wholesale and distributor opportunities in the U.S., Canada and around the world, please contact Tony Baker at 918-955-1000 x1010.