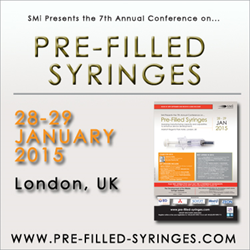 (PRWEB UK) 9 September 2014
The administration of therapeutic drugs via injection is an indispensable delivery method for numerous drugs critical to patient health and well-being. This field is evolving in response to changing patient populations, new classes of powerful therapeutic drugs and healthcare administration initiatives. The issue of pre-filled syringe safety has received increased attention as of late, with both integrated pre-fillable safety syringes and safety solutions designed to accommodate existing pre-fillable syringes advancing commercially.
SMi Group announces its 7th annual Pre-Filled Syringes Conference will be taking place in London in Juanuar 2015. Event programme case studies, presentations and round table discussions on the key issues surrounding the latest developments in the pre-filled syringes market and regulatory considerations. This is a must attend event for those focusing on the latest developments and enhancements in the design and manufacturing of pre-filled syringes and injection devices.
Detailed regulatory considerations, new developments, industry challenges and risk assessment will be addressed to enhance product development, cost efficiency and efficacy
Plus, event programme includes 2 interactive pre-conference workshops (27 January 2015, Marriott Regents Park Hotel): The Development of Pre-Fillable Syringe Systems, hosted by Schott Schweiz AG, and Non-clinical considerations for developing a small volume parenteral drug product, hosted by Forest Laboratories, a subsidiary of Actavis.
Speaker Faculty- 2015 includes:

Chairman- 2015: Alphons Fakler, Senior Packaging Engineer, Novartis Pharma AG
Christian Olesen, Manager, Finished Products & Medical Devices, NNE Pharmaplan
Dirk Van Caelenberg, European Commercial Development Manager, Safety, BD Medical - Pharmaceutical System
Shun Ogawa, Research Manager, Mitsubishi Gas Chemical Company Inc.
Ignance Wallaert, Principal Engineer, Primary Container & Drug Delivery Devices, Janssen
Stuart Harris, Sales and Market Development Manager, Zeon
Patrick Garidel, Head of Pharmaceutical Basic Development, Boehringer Ingelheim
Nicolas Brandes, Business Development Manager Daikyo Crystal Zenith, West Pharmaceuticals Services Inc
Carsten Worsoe, Principal Scientist, Novo Nordisk A/S
Stephen Barat, Executive Director, Scientific Affairs - Pharmacology & Toxicology, Forest Laboratories
Anil-Kumar Busimi, Head of Global Product Management, SCHOTT AG
Please go to http://www.smi-online.co.uk/2015prefilledsyringes3.asp to download the complete event programme including all speakers.
SMi Group offers direct access to key decision makers in this sector through tailored sponsorship & exhibitor packages. If you would like to join the event programme as a sponsor, exhibitor or speaking sponsor, please contact Alia Malick, Director, on tel: +44 (0)20 7827 6168 or email: amalick@smi-online.co.uk
For more information, go to: http://www.smi-online.co.uk/2015prefilledsyringes3.asp
Alternatively, contact Fateja Begum on +44 (0) 207 827 6184 or e-mail fbegum@smi-online.co.uk
Contact for media partners: Julia Rotar, marketing manager, jrotar@smi-online.co.uk
Further information available to download online at http://www.smi-online.co.uk/2015prefilledsyringes3.asp
7th annual Pre-Filled-Syringes Conference
29-30 January 2015
Marriott Regents Park Hotel, London UK