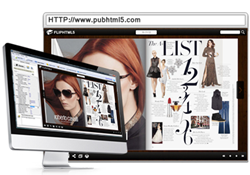 (PRWEB) September 11, 2014
Today, people are using a wide variety of devices that run on different platforms, such as Android, iOS and Windows 8. This is the reason why PUB HTML5 has now launched HTML5 digital catalog software that can be used for publishing digital catalogs across a number of platforms. Now, one publication can be accessible to a variety of platforms, and one needs not to create different editions for each of the touchpoints. PUB HTML5 is even one of the 3 Free Responsive jQuery & CSS3 Flipbook Software recommended by a BlogSpot blogger.
The spokesperson of the company reveals that the new software has been designed to meet the requirements of reaching the audience that is using a variety of devices in the present times. This helps businesses to penetrate the mobile user base, irrespective of the devices and the platforms they are using. The software allows the creation of interactive catalogs with pre-designed templates that are available for free. The software can serve the purpose of a solution that can connect a business directly with the customers that are available on a variety of platforms.
The software helps create a new catalog publishing platform that can bring immense possibilities for the users besides allowing spreading the communication among a larger audience base. One can not only access the catalog from any device, but can also shop from any digital catalog from any device. This additional capability can be used to enhance the business prospects and reaching new customers who are today using different types of computing or mobile devices.
According to the spokesperson, the software improves desktop browsing, and there is no need to use flash for desktop browsing. Moreover, one can embed the rich media such as videos, animations and links to make the digital catalog more interactive and feature-rich so that one can promote sales directly from the digital catalog. One can also include own logo and branding to customize the publications with a unique appearance. The cloud based solution allows broadcasting digital publications on the web and mobile platforms and helps businesses to reach their customer base.
PUB HTML5 offers a free plan as well for creating and publishing digital catalogs using the digital catalog software. One can learn more about the plan and the software features by visiting the website http://pubhtml5.com/.
About PUB HTML5
PUB HTML5 is one of the leading technology providers of HTML5 digital publishing software solutions. The Hong Kong based company offers digital publishing software that allows users to convert any printed material into a unique digital publication. The company's innovative desktop publishing software allows to deliver digital content via the web, tablets, mobile devices, and social media channels. The software can be used to publish online magazines, product catalogs, newspapers, business brochures, newsletters, corporate reports, annual reports, e-books, event flyers, or any other type of multi-page digital content.