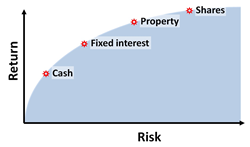 These 'alternative' property investments are asset-backed, meaning investors can also gain from the longer term asset growth.
(PRWEB UK) 10 September 2014
Despite the Governments incentives to allow investors to deposit up to £15,000 in cash into ISAs, cash subscriptions fell by five per cent in 2013-14. There has also been a drop of ten per cent of new cash ISA accounts being opened, which has been primarily due to the ultra-low Bank of England rates being kept down and the Government's 'Funding for Lending Scheme', leading to a lower requirement for banks to access cash deposits. Resulting in a further drop in interest rates to existing ISA accounts holders.
"When property bonds and investments in commercial property developments are being offered with assured returns in of between 8% and 16% per annum, I don't understand why investors are not being encouraged to consider the alternatives," says Aaron, an independent property investment consultant.
"Not only can these type of investments offer investors far in excess of what the banks are offering in returns, these 'alternative' property investments are asset-backed, meaning investors can also gain from the longer term asset growth."
Asset Enterprise Partnership LLP has a mixed portfolio of property backed bonds, and property investments in luxury spa hotels and resorts, care homes and student accommodation in the UK and across the globe. The company's ethos is only to deal with reputable UK based development companies with a track record for these types of investment opportunities, where the developer has a portfolio of completed resorts and developments that investors can see and experience, should they wish.
"In terms of investments what we offer our clients is an asset purchase with freehold or long-leased hold tenure, meaning that they will benefit financially from the returns related to the going concern of the venture, as well as holding the title deeds to the underpinning asset. In my opinion, what we offer investors are opportunities to cash-in on one of the most stable investments the market has to offer," adds Aaron.
In a retrospective look at the performance of stock and shares, and property investments over a long term period, stocks and shares can certainly be more volatile, to the point where the initial investment can be lost altogether. An asset-based investment still retains an asset value and property prices tend to rise and fall at a much slower rate than traditional stock and shares.
"Investors should be encouraged to look at all of the options available before putting all of their savings in a bank account, whatever type of account that is. Experience has shown that banks are not always the safest place for keeping our savings and certainly don't offer investors the best returns. My advice to any investor, however large their pot of money is to seek independent advice and to do their research," concludes Aaron.
For more information speak to Aaron Foster at Asset Enterprise Partnership on 0845 868 5920 or visit http://www.assetenterprise.org