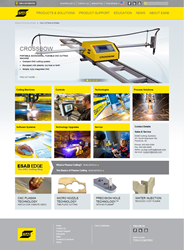 Florence, SC (PRWEB) September 09, 2014
ESAB Cutting Systems announces the launch of its redesigned website for North America. A streamlined, modern design, the new http://www.esab-cutting.com offers extensive information about ESAB's comprehensive line of cutting products and processes as well as expanded resources in an easy-to-navigate format.
The website features in-depth content on ESAB cutting machines, process solutions, technologies, controls, software systems, and technology upgrades. ESAB Edge, The CNC Cutting Blog, and ESAB's Knowledge Center, are now easier to access. A simple hierarchical structure, new drop down menus, and more robust search functionality allow visitors to quickly find the content and resources they want in the fewest clicks possible.
ESAB's new http://www.esab-cutting.com offers a clean, uncluttered look and a more user-friendly experience consistent with the company's recently revamped http://www.esabna.com site. Updates are also planned for other ESAB regional websites throughout the world.
The new Cutting Systems site is compatible with today's browsers and is responsive to adjust to individual screen sizes for viewing on a tablet or mobile device.
For more than 75 years, ESAB Cutting Systems has been offering off the shelf, turnkey solutions to customers around the world. ESAB Cutting Systems is a total system supplier, offering CNC shape cutting machines in a variety of sizes, using a wide range of cutting technology to include plasma, oxy-fuel, laser, and waterjet tools, programming and nesting software, and CNC controls.
ESAB Welding & Cutting Products is a recognized leader in the welding and cutting industry. From time-honored processes in welding and cutting to revolutionary technologies in mechanized cutting and automation, ESAB's welding consumables, equipment, and accessories bring solutions to customers around the globe. For more information, visit http://www.esab-cutting.com or call 1-888-372-2288.