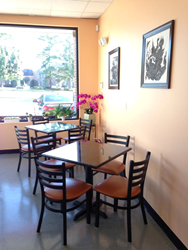 The Metal Ladder Back Chairs are America's most popular restaurant chairs
Fayetteville, NC (PRWEB) September 09, 2014
Leading commercial furniture distributor, Restaurant Furniture.net recently teamed up Prik Thai in Fayettevile, North Carolina to help them open their second location by supplying them with new commercial chairs and table tops.
Prik Thai is located in Fayetville, North Carolina. They serve Thai and Chinese food and are open for lunch and dinner. Menu favorites include bamboo chicken and pork, green chili spicy fish, sweet and sour pork, Thai Prik King, pad Thai, chicken curry, cashew chicken, garlic pork or chicken and eggplant with tofu. They also serve coffee and offer free wi-fi to customers. They have a large screen television for customers to enjoy and outdoor seating is available.
The owner of Prik Thai needed high quality commercial seating that would look great and be able to withstand the high traffic that the restaurant experiences on a daily basis. "The owner needed sturdy, durable chairs that look great, but he didn't want to spend a lot of money", explained David M. He turned to Restaurant Furniture.net because of their reputation for premium quality and strong built furniture at affordable prices. Restaurant Furniture.net supplied Prik Thai with high quality commercial chairs tables at competitive prices that fit well within his budget.
The owner decided to go with classic Metal Ladder Back Restaurant Chairs in black frame finish with padded vinyl seats in saddle color. Customers have the option of a solid wood seat or an American made padded seat made of vinyl or fabric. Wood seats are available in 6 different finishes. The frame is available in black, copper vein, silver vein, gold vein or gold. The Metal Ladder Back chairs are on sale for $34.50. A matching Metal Ladder Back Bar Stool sells for $51.
"The Metal Ladder Back Chairs are America's most popular restaurant chairs" remarked David. "They look are very durable and look great in all venues, making them very versatile. They also blend in nicely with almost any décor".
He also ordered Restaurant Furniture.net's Economy Granite Table Top in uba-tuba color. The granite table tops also come in giallo gold and come in many different shapes and sizes. The Economy Granite Table Tops are come in commercial grade 1.25" thick granite and have a lightweight design. "The Economy Granite Table Tops were a great choice for Prik Thai because they give the restaurant a prestigious look and are very easy to clean and care for" according to David. He also ordered table bases which are sold separately and come in different sizes.
Browse Restaurant Furniture.net's full selection of commercial grade chairs, bar stools, table tops, table bases, booths and patio furniture at http://www.restaurantfurniture.net or talk to a customer service representative at (888) 409-1115.
Prik Thai is located at 2429 Robeson St. in Fayetville, NC. They can be contacted at: (910) 491-0256.