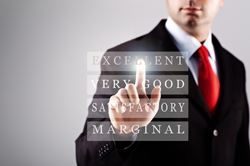 Maidenhead, UK (PRWEB UK) 15 September 2014
Running since 2009, the 2GC Annual Balanced Scorecard Usage Survey helps to chart the usage and trends amongst users of Balanced Scorecards. Last year's results demonstrated that more organisations than ever are successfully using Balanced Scorecard as a strategic management tool with two thirds of participants reporting that their Balanced Scorecard implementation was 'very' or 'extremely' useful. Complete the survey today!
The survey also investigates how use of Balanced Scorecards affects organisations, and how the impact is influenced by the organisation's management culture: for example, previous results showed that over a third of organisations say that there are no consequences for missing targets, although almost 90% of respondents said that their employee actions and behaviours were strongly influenced by the performance management tool. The survey also notes that organisations are increasingly using Balanced Scorecards in a forward-looking role to support management decision-making, rather than as a backward-looking tool to evaluate the performance of teams or individuals.
The survey should take no more than 10 minutes and can be completed by anyone with experience of a Balanced Scorecard within their organisation. It is anonymous but if respondents choose to enter their contact details then they will receive the full results and be entered into a draw for $25 Amazon vouchers. The survey will close on Friday 31st October.
William Barney, Director at 2GC says, "Balanced Scorecard continues to be a very relevant and successful management tool. Our own project experience backs up the overwhelmingly positive results that effective use and strong implementation of Balanced Scorecards lead to higher employee engagement and improved strategy execution. We look forward to analysing and reporting on this year's results."
Click here for previous results.
About 2GC Active Management
Established in 1999, 2GC is a strategy implementation consultancy recognised as a thought leader in the field of strategic performance management. With offices and partners spanning the globe, 2GC has worked with a diverse range of clients across the commercial, public and NGO sectors both in the UK and worldwide.