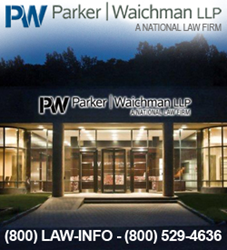 "We are pleased by the court's decision," said Gary Falkowitz, Managing Attorney at Parker Waichman LLP. "When businesses make claims about their products, they should be held responsible when those claims prove to be untrue."
Port Washington, New York (PRWEB) September 11, 2014
Parker Waichman LLP, a national law firm dedicated to protecting the rights of consumers, announces that the U.S. District Court for the Central District of California, Southern Division, has approved a preliminary settlement agreement in a class action lawsuit against Lenovo, Inc. (Garrett Kacsuta and Michael Wheeler v. Lenovo, Inc, Case No. SACV 13-00316-CJC [RNBx]). The Order granting plaintiffs' motion for preliminary approval was signed by U.S. District Judge Cormac J. Carney on September 4, 2014. The court appointed Parker Waichman LLP; Paradis Law Group, PLLC; and Whitfield Bryson & Mason, LLP as class counsel in the litigation. The final approval hearing will be held on December 8, 2014, the order states.
"We are pleased by the court's decision," said Gary Falkowitz, Managing Attorney at Parker Waichman LLP. "When businesses make claims about their products, they should be held responsible when those claims prove to be untrue." According to Parker Waichman LLP, the IdeaPad U Series did not live up to marketing claims.
According to court documents, the lawsuit alleges that the Lenovo IdeaPad U310 and U410 "U Series" computers have defective Wi-Fi capabilities, despite being marketed as "ideal for any and all mobile needs." Allegedly, the devices had a defect that severely impeded the plaintiffs' ability to connect to Wi-Fi networks or obtain Wi-Fi reception speeds sufficient to engage in their intended mobile computing purposes. The suit alleged that Lenovo sold the faulty computers using deceptive marketing practices.
An agreement to resolve these allegations was reached in June 2014, court documents indicate. Now, the court has granted the plaintiffs' motion, stating that "the terms of the settlement are likely to be fair, adequate, and reasonable." The Order states that "Having reviewed the negotiation process and substantive terms of the Settlement Agreement, the Court finds no obvious deficiencies or grounds to doubt its fairness."
The Settlement Agreement provides several benefit options, the Order states. To resolve allegations, plaintiffs can choose one of the following options:

Repair the wireless capability (only available to those who have not returned their computers to Lenovo)
Receive a $100 cash refund from Lenovo
Receive a $250 credit certificate to be used toward any product listed for sale on Lenovo's website
Class members must submit a Claim Form and Settlement Declaration along with "a sales receipt, credit card or other account statement, shipping manifest, purchase order or other similar documentation evidencing purchase of" the affected computer to receive any of these benefits.
If you or someone you know has purchased a Lenovo IdeaPad notebook computer, you may have valuable legal rights. To discuss your case with one of our lawyers, please view our Lenovo IdeaPad Ultrabook Class Action Lawsuits page or call 1-800-LAW-INFO (1-800-529-4636).