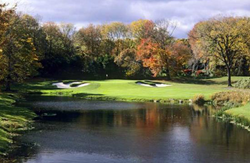 The incidence of Lyme disease has reached epidemic proportions. Private funding is more essential than ever.
Greenwich, CT (PRWEB) September 09, 2014
The third annual Lyme Research Alliance(LRA) Golf Tournament will be held on Thursday, October 9 at the exclusive Stanwich Club in Greenwich, CT. Proceeds from the tournament will help LRA fund research and ultimately find a cure for Lyme and other debilitating tick-borne diseases.
"We are proud to be part of this great event and to be able to support this important cause," said New Canaan's Robert Bel Bruno, a Golf Committee member. "Plus we're thrilled to be holding the tournament again at Stanwich, a course that challenges and exhilarates even a seasoned golfer."
The private18-hole Stanwich Club, set on 450 acres, is rated best in Connecticut in 2013-2014 by Golf Digest, and is the highest ranked Connecticut course in New England Golf Monthly's list of top 25 private courses. Stanwich's long and demanding course was renovated in 2006 by Fazio Golf Course Designers with 23 strategic fairway bunkers added, along with several new tees and other substantive changes.
The tournament will begin with registration and warm-up at 11 a.m., followed by a lunch buffet served on the clubhouse terrace, and a shotgun start at 12:30 p.m. Following the tournament, golfers and guests will be treated to a cocktail reception, buffet dinner, silent action, and awards ceremony. The cost is $1,000 per player or $3,500 per foursome.
Last year's golf tournament helped LRA raise about $80,000 to support LRA's mission to search out and support the most promising research to develop better diagnostic tests, treatments and ultimately a cure.
The number of Americans diagnosed with Lyme disease each year is about 300,000 and climbing, making it the most commonly reported tick-borne illness in the United States. "The incidence of Lyme disease has reached epidemic proportions, yet scientific research to confront this problem continues to be severely underfunded," said Peter Wild, LRA's executive director. "As a result, the role of private funding is more essential than ever."
Sponsors for this year's Tournament include Greenwich Hospital, Golfsmith, Baum-Essex, Stella Artois, the Executive Women's Golf Association, Greenwich Magazine-Moffly Media, and Pepe Infiniti of White Plains, sponsor of the hole-in-one prize of a brand-new Infiniti.
Sponsorship opportunities are still available to support this worthwhile cause. For registration and information about sponsorship levels, go to LymeResearchAlliance.org/golf.htm, email sterry(at)LymeResearchAlliance(dot)org, or call LRA's office at 203-969-1333.
____________________________________________________________________________________
Lyme Research Alliance, formerly Time for Lyme, is a Connecticut-based, national non-profit that funds cutting-edge research into Lyme and other tick-borne diseases. For more information go to http://www.LymeResearchAlliance.org.