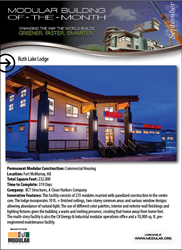 Charlottesville, VA (PRWEB) September 11, 2014
The Modular Building Institute's September 2014 Building of the Month is Ruth Lake Lodge. Manufactured in Lethbridge, Alberta by BCT Structures, Ruth Lake is an "open lodge" located 26 kilometers north of Fort McMurray, Alberta. It provides much-needed housing for employees and executives of companies working in the ever-growing Athabasca Oil Sands industries in Canada. Amenities in this innovative 232,000 square-foot lodge include a 4,000 square-foot workout facility; a business center with offices and workstations; a restaurant-style dining area; and more than 600 rooms, including 247 square foot VIP rooms, 171 square foot executive rooms, and 133 square foot "Jack & Jill Rooms", all with private bathrooms, Wi-Fi access, and individual thermostats.
Composed of 235 modules married with panelized construction, the Ruth Lake Oil Lodge was manufactured and built in 319 days and provides a social, recreational, and interactive environment for all of its residents. It features a contemporary exterior design with an inverted roof and wood beam accents, while the interior features an expansive dining area, 10 foot ceilings, two-story common areas, and a variety of window designs including clerestory to foster a social environment and allow employees to feel at home. The design of the Ruth Lake Lodge overcame technical challenges in order to accommodate the larger spans, clerestories, and other open-space concepts to create inviting areas for residents. Sustainable materials were used in the manufacture and construction of the lodge, as well as low-flush toilets, energy efficient appliances, showers, and lighting to reduce its operating costs.
Lodges like Ruth Lake Lodge serve workers at the local oil sands refineries, construction, and other labor-intensive jobs near Fort McMurray. Many have families "back home" and use these lodges as temporary housing, flying home for their days-long stretches of time off. The multipurpose spaces and technology included in this lodge make time spent at work more bearable than its Spartan counterparts.
More info: http://bit.ly/0914MBIbom
# # #
Founded in 1983, the Modular Building Institute (MBI) is the only international non-profit trade association serving modular construction. Members are manufacturers, contractors, and fleet owners in two distinct segments of the industry - permanent modular construction (PMC) and relocatable buildings (RB). Our Mission: As the Voice of Commercial Modular Construction™, it is MBI's mission to expand the use of offsite construction through innovative construction practices, outreach and education to the construction community and customers, and recognition of high quality modular designs and facilities.