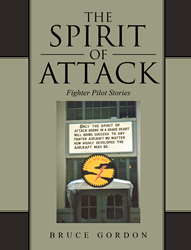 There are old pilots, and bold pilots, but few old, bold pilots
Lexington, Kentucky (PRWEB) September 11, 2014
In the middle of a major nuclear alert in 1969, fighter pilot Bruce Gordon took it upon himself to investigate a Soviet fleet off of North Korea, and may have had a part in deterring a Soviet attack on China.
Gordon's new book, The Spirit of Attack, contains the story of this harrowing event and many more, with stories from 224 hours flying in combat in Vietnam as well as the Cold War. From staring down the barrels of a Russian cruiser's guns to dodging Vietnamese gunfire, from Alaska to Korea, Gordon has earned his Distinguished Flying Cross.
"There are old pilots, and bold pilots, but few old, bold pilots," Gordon is fond of saying. At the age of 79, Gordon can safely claim to be both.
"My friends told good stories around the bar or late at night, but few wrote down what happened," Gordon said. "Not only do I share my remarkable adventures in the form of short stories, but I back them up with photographs and maps."
The Spirit of Attack contains over 40 short stories and 90 photographs of flying and fighting. It focuses on tales of flying fighters so that readers can understand firsthand the conflicts that shaped a generation.
For more information, visit authorhouse.com or watch a video here.
The Spirit of Attack
By Bruce Gordon
ISBN: 978-1-4918-4603
Available in softcover and e-book
Available on Amazon, Google Books, and Authorhouse
About the author
Bruce Gordon is a former United States Air Force Major with 4,249 total hours of flying. He enjoys technology and is an expert in radar and electronic warfare systems. He is retired and lives in Georgetown, Kentucky.
###
**FOR IMMEDIATE RELEASE**
For review copies or interview requests, contact: Craig Cainkar
(317) 602-7137
ccainkar(at)bohlsengroup(dot)com