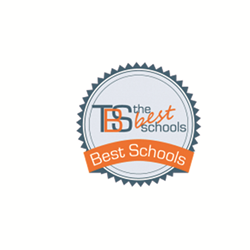 Plumsteadville, PA (PRWEB) September 10, 2014
Plumstead Christian School has been given the distinction by the TheBestSchools.org as one of the top 50 Christian high schools in America. TheBestSchools.org included only coeducational day schools (no boarding schools) and based their selection on each school's academic strength, extracurricular richness, and geographic and demographic diversity. Additionally, TheBestSchools.org chose schools based on how seriously each school takes its Christianity.
In their selection of Plumstead Christian School, TheBestSchools.org cites the school's extensive Bible curriculum which includes courses on Exegesis, Systematic Theology, Christian Virtue, Apologetics, and several others, including courses on specific books of the Bible.
"Students develop biblical literacy," says Middle and Upper School principal, Mrs. Shannon Nusser, "but more than this, they learn through these Bible classes, through integration of spiritual truth into all curricular and co-curricular offerings, and through the godly influence of teachers that their Christian faith should inform everything they do. As seniors, our students' year ends with an eight day senior mission trip to the Dominican Republic where so much of what they have learned converges with real life service."
TheBestSchools.org also recognized the fact that Plumstead Christian School offers an array of Advanced Placement classes that can earn high school students college credit. The academic strength of the PCS experience is further supported by the fact that PCS students consistently outperform the national average on standardized tests such as the SAT and gain acceptance in many of this nation's most selective colleges and universities.
The richness of Plumstead Christian School's fine arts electives was also touted as a strength, with almost 30 course offerings in art alone. Couple these courses with the array of courses offered in the performing arts and it is clear that while many schools are cutting fine arts budgets, Plumstead Christian School places a high value on these experiences.
"With thousands of Christian schools to choose from, we are honored to have been recognized for our academic strength, the richness of our co-curricular offerings, and the diversity that we value. We are most pleased that they view us as a school that takes Christianity seriously, since our mission is to teach students how to think biblically, serve effectively, and live Christ-centered lives," cites Patrick Fitzpatrick, headmaster of Plumstead Christian School.
Plumstead Christian School may be best known in the region for its Founders Forum, a speaker series that attracts some of the nation's most prominent and influential Christians. In the past four years PCS has hosted keynote speakers Sarah Palin, President George W. Bush, Tim Tebow, Dr. Ben Carson, and Phil and Alan Robertson of A&E's Duck Dynasty fame. Despite the notoriety that these events bring to Plumstead Christian School, it is clear that the school's focus is on providing an extraordinary educational experience that reaches and stretches the whole student – providing challenging and rewarding opportunities in the vital areas of faith, virtue, and knowledge.