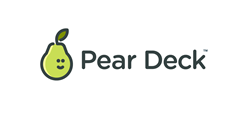 "Pear Deck helps teachers connect with even the quietest and most reluctant students; these are voices that mainly go unheard."
Iowa City, Iowa (PRWEB) September 09, 2014
Pear Deck announces the international launch of Pear Deck!
Pear Deck is a Google Drive App that lets teachers and trainers create interactive presentations and formative assessments allowing every single participant to answers questions simultaneously.
As of September 9, 2014, the Pear Deck Google Drive App is publicly available through the Chrome Web Store for districts, schools, teachers, trainers, and speakers.
According to Michal Eynon-Lynch, a former teacher and Pear Deck Co-Founder, COO, and Chief Educator, the inspiration for Pear Deck came directly from the classroom. "It's challenging for teachers to know where each student is and what they are learning," said Eynon-Lynch. "Pear Deck helps teachers connect with even the quietest and most reluctant students; these are voices that mainly go unheard."
Pear Deck has been rigorously testing the software in classroom and presentation environments since March, working closely with beta users in multiple disciplines to build the best interactive presentation tool available.
One such beta tester was Sabina Bharwani, Director of EdTech for Teach for America. "What excites me most about Pear Deck is a key feature that differentiates it from all other EdTech products," said Bharwani. "It has the ability to technologically enable personalized and collaborative learning simultaneously."
Naomi Harm, CEO of Innovative Educator Consulting tweeted her enthusiasm a few weeks ago. "@PearDeck great fun wrap up assessment for 30 educators and admins today. Highly motivating and energizing!!! Thank you!!" Naomi Harm @nharm.
Pear Deck was founded in January by Michal Eynon-Lynch, Anthony Showalter, Riley Eynon-Lynch, and Dan Sweeney. This is the second EdTech startup for the team after selling ActiveGrade to Haiku Learning.
As Eynon-Lynch points out, "after getting the band back together, the team has been hard at work and it's been an exciting eight months."
In July, Pear Deck was awarded $100,000 in matching funds from the Iowa Economic Development Authority to boost their current funding round.
And, in the last month the team was honored with two exciting wins: Pear Deck was named Startup of the Year by the Silicon Prairie Awards and became one of three winners in the Iowa Business Plan Competition, with final placements to be announced during an Award Luncheon September 18 at Drake.
Eynon-Lynch adds, "We are tremendously proud to be building Pear Deck in the great Silicon Prairie. Most of the country thinks there's nothing here other than corn, but we know firsthand the incredible resources and support available to entrepreneurs with big ideas."
Contact information: Michal Eynon-Lynch, Co-Founder, COO, Chief Educator, michal(at)peardeck(dot)com