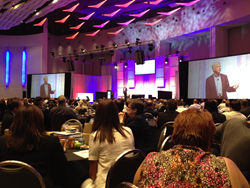 Dexter, MI (PRWEB) September 11, 2014
Protomatic, a precision CNC machining and prototyping manufacturer, was recently recognized at the Detroit Matchmaking Summit as one of the best representatives in the CNC contract-manufacturing segment. Along with the recognition, Protomatic was invited to display a booth at the Summit, which was sponsored by the Michigan Economic Development Corporation (MDEC).
Protomatic had samples of parts on display from its multiple market segments. Although principally a medical and aerospace OEM parts supplier, Protomatic has also manufactured automotive engine parts and instrumentation panels. A variety of these parts were presented, including: alternators, fan blades, supercharger housings, fuel rails, brake housing, brake spools, starter motor components and housings, temperature sensors and instrumentation panels.
This summit was focused on the needs of the "Detroit Three" (Chrysler, Ford and GM) with discussions centered on business growth, exporting and talent development. One-on-one "matchmaking" meetings that brought together service and product suppliers for first and second tier OEMs were another significant event during the day.
The keynote address was given by Michigan Governor Rick Snyder and Glenn Steven, Vice President of MICHauto and Strategic Development of the Detroit Regional Chamber. They both demonstrated a comprehensive knowledge of the manufacturing business and a sincere appreciation for the automotive industry.
Governor Snyder emphasized the need to create an environment for the success of all Michigan industries, and takes a special interest in leading edge technology. Several other important speakers were featured, including Trevor Pawl, Managing Director of Pure Michigan Business Connect. Pawl spoke on the focus of innovative growth, and opportunities that helped Michigan businesses with over $1.85 billion in new contracts.
At the end of the day, the Detroit Matchmaking Summit was deemed a huge success. "It is great to see the State of Michigan directly promote business development," stated Doug Wetzel, Vice President at Protomatic. "After all, Michigan continues to be one of America's leading manufacturing regions."