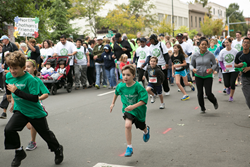 "A lot of these kids and adults have wonderful abilities. They can contribute to society, you just need to give them the right support. My son has gone well beyond what they said he could do when he was 3."
Raleigh, NC (PRWEB) September 11, 2014
The Autism Society of North Carolina will hold its 16th annual Triangle Run/Walk for Autism on Saturday, Oct. 11. Runners and walkers of all ages participate in this fun family event, which starts at 9 a.m. in Moore Square in downtown Raleigh.
Last year's race raised a record-breaking $320,000 as more than 3,800 participants, volunteers, and a variety of businesses joined to improve the lives of those affected by autism.
The Triangle Run/Walk for Autism will include a USATF-certified 5K race, which is part of the Second Empire Grand-Prix Series; a 5K noncompetitive run; a recreational 1-mile run/walk; and a kids' dash.
The Triangle Run/Walk for Autism also gives families a chance to celebrate autism awareness and acceptance with their community during a day of fun with amusements for children, music, and refreshments. Vendor space will showcase local businesses, service providers, support resources, and sponsors.
In North Carolina, 1 in 58 children will be diagnosed with Autism Spectrum Disorder (ASD). Proceeds from the Run/Walk for Autism events stay in North Carolina, funding local programs of the Autism Society of North Carolina (ASNC). ASNC is the leading statewide resource organization providing support for families and promoting opportunities for the over 65,000 people in the state affected by ASD.
Please visit http://www.trianglerunwalkforautism.com or call 800-442-2762 to register, join a team, form a team, sponsor, donate, or volunteer.
Background:

Autism Spectrum Disorder (ASD) is a lifelong developmental disability that typically appears during the first three years of life. Recent studies estimate that up to 1 of every 58 children born in North Carolina will be affected by ASD.
For more than 44 years, the Autism Society of North Carolina has worked to address areas of need and expand services for the autism community in North Carolina. ASNC works to directly improve the lives of individuals affected by autism, by providing advocacy, education, and services.
Additional information is available by calling 1-800-442-2762 or by visiting http://www.autismsociety-nc.org.