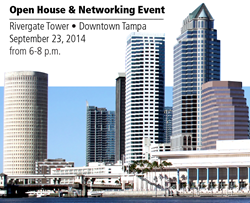 The move was necessary to keep up with our growth
Tampa, FL (PRWEB) September 10, 2014
The event, which takes place Tuesday, September 23, 2014, at 6 p.m. EST, will include cocktails and hors d'oeuvres for clients and business partners, as well as a meet and greet with A-lign's staff.
"The move was necessary to keep up with our growth," explains Scott Price, A-lign's Managing Director. The firm, which has nearly doubled in size since 2013, also chose to relocate to enhance its presence with Tampa clients and business partners in the downtown business district.
If you are interested in attending A-lign's open house and networking event or would like to receive more information, please contact 888-702-5446 or email info@a-lign.com.
About A-lign: A-lign is a full service security and compliance solutions firm with extensive experience in providing: SOC 1: SSAE 16 Examinations, ISO 27001 Certifications, PCI DSS Assessment Services, SOC 2: AT 101 Services, FedRAMP Security Assessments, SOC 3: WebTrust/SysTrust Services, FISMA Security Assessments, HIPAA and HITECH Services, Penetration Testing and Vulnerability Assessments. A-lign is a licensed CPA firm, QSAC, accredited ISO 27001 certification body and accredited FedRAMP 3PAO.