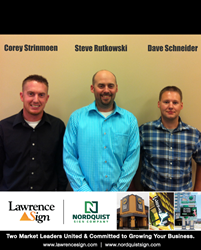 Minneapolis, MN (PRWEB) September 09, 2014
The promotions result from the employees' high performance and outstanding dedication to the company's promise of 100 percent customer satisfaction.
Dave Schneider has been appointed Supply Chain Director. He has a long history with the company and has been an effective leader in many areas including the letter department, production prep, estimating and production manager.
As the Supply Chain Director, Schneider is in charge of planning, executing and controlling the procurement of goods and services required for the company to operate efficiently. Daily, he maintains a production schedule from which he assesses and secures the material and labor for both the short and long term needs.
"I have watched our business grow dramatically and I am proud to contribute to the continued success of Lawrence Sign and Nordquist Sign. I look forward to developing an enhanced scheduling process to support the operations team as they deliver quality signage to our customers."
Steve Rutkowski has been promoted to Production Manager and now supervises the entire signage fabrication process. Together with his team, they are responsible for producing quality signs built to meet the customers' expectations. His duties vary greatly from keeping the equipment in top operational order to ensuring employee safety to overseeing the project to completion.
"Building and delivering unique signs at Lawrence Sign and Nordquist Sign brings a new experience every day. Each project presents a variety of opportunities for the production team to be creative in its development and fabrication of the signage. I will enjoy leading this committed team and will work hard to meet our customers' expectations."
Corey Strinmoen has been promoted to Installation and Service Manager. In his new role, Strinmoen is responsible for the safety of the installers, coordinating with the customer's requirements and the scheduling of field crews.
"Our team works with a comprehensive focus on making certain every installation is done in a safe and efficient manner. We strive for excellence and always go the extra step for our customers," said Strinmoen.
Robb Walker, CEO of Lawrence Sign and Nordquist Sign said, "Dave Schneider, Steve Rutkowski and Corey Strinmoen are three talented individuals who are well-deserving of their promotions. Their commitment to customers, quality and growth are instrumental to our continued success. The entire company is enrolled in supporting these leaders and I am certain they will excel in their new roles."
About Lawrence Sign & Nordquist Sign
Lawrence Sign, founded in 1929, designs, fabricates and installs signs for almost every industry servicing local, national and international clientele. Lawrence Sign utilizes advanced technologies and expansive facilities to provide direct in-house control of the entire sign fabrication process. The Company excels at serving companies with a multi-site national and international presence.
Nordquist Sign has been fabricating and installing interior and exterior signage, architectural elements and way-finding signage for over 100 years. Nordquist's customer base and scope of work includes custom signage and environmental graphics for hospitals, sports facilities, themed entertainment, corporate/financial and mass transit industries. Nordquist Sign also maintains a gaming division with offices in Las Vegas, NV and St. Paul, MN to serve casino gaming markets throughout the United States.
In early 2012, Lawrence Sign combined with Nordquist Sign to unite the unique resources and capabilities of the two companies. Together, Lawrence Sign and Nordquist Sign offer their clients over 175 years of experience in sign manufacturing and installation for all facets of the signage industry.