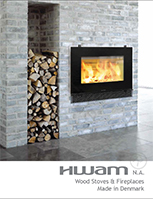 "We want to give our customers exactly what they want here at Doctor Flue."
Tecumseh, Michigan (PRWEB) September 11, 2014
Doctor Flue, inc.® is proud to announce that the company now carries HWAM Fireplaces and Woodstoves. HWAM is one of Denmark's largest producers of wood-burning stoves designed by architects. This new line of fireplace and woodstoves carried by Doctor Flue has recently become available in the United States.
For the last 40 years, HWAM has lead the industry with several advantages and innovations, such as HWAM Autopilot, a feature that automatically controls the combustion rate to ensure an efficient and long lasting fire. HWAM introduced the curved glass window to the fireplace and woodstove industry, along with curved soapstone from Tulikivi. HWAM products also include a door that swings up, instead of out onto the hearth for a unique and very convenient loading experience.
Doctor Flue strives to provide its customers with the highest quality fireplaces, woodstoves, and installations and is thrilled to carry these "intelligent" HWAM products.
"We want to give our customers exactly what they want here at Doctor Flue," owner Kevon "Doc" Binder said. "With this new line of HWAM products, not only are we able to provide our customers with more fireplace and woodstove options, but we hope we will be able to exceed their expectations."
In addition to offering fireplace and woodstove products and services, Doctor Flue also provides a wide range of chimney services including inspections, cleaning, repair and more. Established in 1986 in Tecumseh, Michigan, Doctor Flue has expanded to service many areas within Michigan and Ohio.
View the HWAM woodstoves and fireplaces available through Doctor Flue. To learn more about Doctor Flue and the services they provide, visit the company's website, call 800-438-3583, or email office(at)drflue(dot)com.