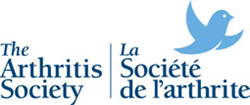 Toronto, Ontario (PRWEB) September 09, 2014
The Arthritis Society today announced the commitment of $3.4 million in funding for arthritis research across Canada this year. The funding will be used to fund both established researchers as well as provide young investigators with their first opportunities to explore novel ideas within the field of arthritis research. A total of 18 new projects will be funded.
"Canadians with arthritis should know that we are fast approaching real answers to questions that have puzzled arthritis researchers for decades," says Joanne Simons, chief mission officer at The Arthritis Society. "More sophisticated equipment and advanced technology have enabled us to study disease development and progression more accurately than ever."
Each year, The Arthritis Society funds exceptional research projects that show the most promise to deliver practical solutions for people with arthritis and to find the cure for this disease. These new grants carry awards that last up to three years. Highlights of the 2014-15 research awards include:

The Arthritis Society also directed $300,000 toward Canadian medical schools that will help further develop research at local arthritis centres across the country and enhance the training of new rheumatologists at teaching hospitals. The Society is also teaming up with the Canadian Institutes of Health Research on a trio of major inflammation-focused studies, to be announced at a later date.
The Arthritis Society has now invested nearly $190 million in the most promising research into arthritis and chronic pain.
ABOUT THE ARTHRITIS SOCIETY
The Arthritis Society has been setting lives in motion for over 65 years. Dedicated to a vision of living well while creating a future without arthritis, The Society is Canada's principal health charity providing education, programs and support to the over 4.6 million Canadians living with arthritis. Since its founding in 1948, The Society has been the largest non‐government funder of arthritis research in Canada, investing nearly $190 million in projects that have led to breakthroughs in the diagnosis, treatment and care of people with arthritis. The Arthritis Society is accredited under Imagine Canada's Standards Program. For more information and to make a donation, visit http://www.arthritis.ca.