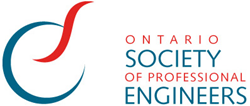 "There are misalignments between recruitment processes of employers and job search practices of internationally trained engineers."
TORONTO, ON (PRWEB) September 10, 2014
The Ontario Society of Professional Engineers (OSPE) is pleased to release a new report titled, "From the World to the Workforce: Hiring and Recruitment Perceptions of Engineering Employers and Internationally Trained Engineers in Ontario." Based on surveys and interviews with engineering employers and surveys of internationally trained engineers or ITEs (engineering graduates who have already immigrated and currently live in Ontario), findings suggest an apparent 'disconnect' that is working to the disadvantage of both ITEs seeking employment in engineering and Canadian employers that are striving to meet their human resources needs. The OSPE study draws similar conclusions and observations to a federal study, which was covered this week by The Canadian Press.
The core finding of the report is that there are asymmetries or misalignments between the recruitment processes of employers and the job search practices of ITEs. As well, and equally important, there are subtle, but significant, differences in how Canadian employers and many ITEs understand the role of engineers and, by implication, understand and interpret previous employment experience. In turn, some Canadian employers may be relying on screening and interview methods that are preventing them from properly considering competent professional experience.
Examples of the disconnect between employers and ITEs include: only 10 per cent of employers believe job applicants self-assess their language skills accurately; more than two thirds of engineering employers reported they have difficulty evaluating non-Canadian engineering work experience; and 90 per cent of employers ranked Canadian engineering experience as important or very important, thus placing ITEs without this experience at a disadvantage.
The report's objective is to highlight these asymmetries so that steps can be taken by employers, ITEs, professional associations and settlement organizations to improve the integration of ITEs into the Canadian engineering labour market.
"OSPE is committed to collaborating with all levels of governments, employers, labour organizations and OSPE members to establish best practices to improve the integration of qualified ITEs into the Canadian engineering labour market," stated OSPE's CEO, Sandro Perruzza.
To obtain the executive summary or full report, please visit: http://www.ospe.on.ca/world-to-workforce.
The report was supported through funding from the Government of Ontario and the Government of Canada.
Ontario Society of Professional Engineers:
Founded by engineers in 2000, the Ontario Society of Professional Engineers (OSPE) is the voice of the engineering profession across the province. OSPE advances the professional and economic interests of Ontario engineers by advocating with governments, industry and the public and by providing valued member services and opportunities for ongoing professional development for engineers.