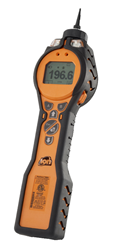 TIGER PID for monitoring VOC's available from Shawcity.
(PRWEB UK) 10 September 2014
California-based design-build group, pH Living™, is using an Ion Science (http://www.ionscience.com) Tiger hand held photoionisation (PID) detector to monitor volatile organic compounds (VOCs) during the construction of its bespoke residential and commercial properties for people with chemical sensitivities. This is in line with the new Healthy Home Standard developed by the International Institute for the Building Biology and Ecology (IBE).
pH Living™ is a design-build group and think tank specialising in healthy, sustainable, transparent and affordable residential and commercial property solutions worldwide. The company designs, manufactures and installs custom homes that are certified by an independent third party assessor as meeting the Healthy Homes Standard for Conventional Construction.
Larry Gust from PH Living comments: "Our goal is to become the leading home provider to the some seven million people in America suffering with chemical sensitivity and environmental allergies or people who just want a healthier home for themselves and their children. We recognise the growing need for these people to have access to homes consciously produced without harmful toxins.
Larry continues: "As a result, our properties need to have the lowest possible level of contamination from VOCs. Whilst we select building materials, finishes and furnishings that have either very low or no VOC emissions, we use the Ion Science Tiger to guarantee that we do not exceed the minimum accepted levels as required by the Healthy Home Standard."
the Tiger PId can be bought directly from Ion Sciences UK distributor - Shawcity Ltd. Please call or e-mail for a quote.