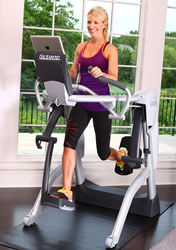 "Both the Zero Runner and the xRide now are compatible with our SmartLink app, which offers new workouts, customized coaching and progress tracking for better results."
BROOKLYN PARK, Minn. (PRWEB) September 10, 2014
At Booth H505 at the Health and Fitness Business Expo today at the Mandalay Bay Convention Center in Las Vegas, Octane Fitness, LLC, demonstrated how it once again is revolutionizing workouts with its unique Zero Runner and new xRide recumbent elliptical series.
"We invented zero-impact running with the Zero Runner, which is an incredible option for runners and people who want to run, and our popular xRide now enhances workouts with new features," said Tim Porth, executive vice president of product development and marketing at Octane Fitness.
"Both the Zero Runner and the xRide now are compatible with our SmartLink app, which offers new workouts, customized coaching and progress tracking for better results."
Zero-Impact Running
Equipped with mechanical hip and knee joints that mimic human biomechanics, the Zero Runner uses independent pedals that allow runners to replicate their natural running gait, just like outside, providing support throughout. The result is no impact on the body. Users control their motion, and the machine follows the runner's stride and pace. Upper-body handles provide natural arm motion and support proper posture.
Displaying pace, stride length, distance, heart rate, calories burned and workout time, the console is compatible with Polar, ANT+ and Bluetooth®, and includes wireless heart rate connectivity and two placement options for a tablet.
Also, Octane's SmartLink app, downloaded to an iPad®, wirelessly connects to the Zero Runner during workouts, analyzes each step and measures gait to help runners perfect their form, particularly when fatigue sets in. And cross training is ultra-convenient with video demonstrations of Octane's CROSS CiRCUIT® routines, which combine running intervals with strength training and flexibility exercises.
Runners can capitalize on zero-impact running to:

Reduce risk of overuse injuries
Prepare for half-marathons and marathons with supplemental mileage
Engage in active recovery and eliminate "junk miles"
Facilitate cross training with CROSS CiRCUIT workouts
Enhance performance and prolong their running careers
Redefining Seated Exercise
The new xRide recumbent ellipticals include a simple-to-navigate console that simultaneously displays all workout data, and several placement options to hold an iPad. On the xR6xi model, Octane's exclusive SmartLight technology illuminates to show exercisers how hard they are working, if they are in their target heart rate zone and when to prepare for the next interval during a Workout Booster.
And the xR6xi is compatible with SmartLink, which connects to and controls the elliptical from an iPad. With four workout categories – Lose Weight, Feel Better, Get Stronger and Athletic Performance – SmartLink delivers customized workouts directed toward exercisers' goals. Users can specify a 30-, 60- or 90-day program, and SmartLink creates regimens and recalibrates if necessary to ensure progress.
With SmartLink, Workout Boosters – x-Mode™, Chest Press and Leg Press include coaching to help exercisers focus on proper form during each interval.
For convenience, SmartLink can run in the background, so exercisers can watch a movie, surf the Internet or send email during workouts – while SmartLink keeps going. Bluetooth 4.0 connects SmartLink to the xRide, as well as to other devices, such as heart rate monitors.
Exercisers can enter their individual data, favorite workouts and preferred feedback display into the app. With workouts tracked and results recorded in the cloud, users can monitor progress, and can announce success on social networks with the convenient social share function. SmartLink users can check out Be Fit tips and instructional videos on how to perform various Octane workouts.
The new xRide series also includes Octane's signature PowerStroke™ technology that results in 23% more calories burned than on a recumbent bike, the customized comfort of the Active Seat Position and the MultiGrip handlebars that fully engage the upper body.
Product and App Availability
The Zero Runner is now in specialty fitness retailers in the United States with a MSRP of $3,299. For more information, visit http://www.zerorunner.com.
Beginning in November, the xRide recumbent ellipticals will be sold at specialty fitness retailers throughout the United States with MSRPs of $4,299 for the xR6xi, $3,899 for the xR6x and $2,899 for the xR4x.
The free SmartLink app for the Zero Runner and the xRide will be available in November at iTunes® at http://bit.ly/octanesmartlink.
Octane Fitness Background
Relentlessly fueled to reinvent zero-impact cardiovascular exercise, Octane Fitness has perfected the elliptical machine, introduced a new category with the xRide® recumbent elliptical, designed strength-infused cardio with the unique CROSS CiRCUIT®, created exercise in a new direction with the LateralX® and is leading smarter training with SmartLink™. Defined by standout innovations, and driven to deliver more effective, efficient and rewarding workouts, Octane is engineering elliptical domination.
# # #
Find Octane at http://www.Facebook.com/OctaneFitness. Images are available; contact Julie King at 847.638.1582 or jking(at)octanefitness(dot)com. For more information, contact the company at 888-OCTANE4 (888-628-2634) or http://www.octanefitness.com. Octane Fitness, CROSS CiRCUIT, LateralX, xRide and Zero Runner are registered trademarks of Octane Fitness. All other trademarks are protected by their respective owners.