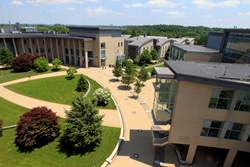 Needham, Massachusetts (PRWEB) September 11, 2014
U.S. News & World Report has ranked Olin College of Engineering number three in the nation—a move up one notch from last year's position—among engineering institutions where a bachelor's or master's is the highest degree.
The ranking was included in the U.S. News 2015 Best Colleges edition, which was published online September 9. Olin is now widely recognized as one of the leading undergraduate engineering programs in the country, along with Harvey Mudd College, the service academies and others.
In this latest ranking, Olin shares the number three spot with the U.S. Military Academy at West Point. Olin was also recently recognized as one of the nation's best colleges by Princeton Review and ranked among the top 10 in the Forbes.com list of top universities ranked by SAT scores.
"We are very pleased that U.S. News has once again recognized the quality of Olin's engineering program," said Richard K. Miller, president of Olin College. "This represents the third straight year our standing has risen and affirms that our innovative work in engineering education is being recognized both locally—and nationally."
U.S. News ranks undergraduate engineering programs accredited by ABET. The rankings are based on a survey of engineering deans and senior faculty at all accredited programs among engineering institutions where a bachelor's or master's is the highest degree, conducted during the spring of 2014. Surveys sent to the dean and a faculty member at each accredited program asked them to rate programs with which they're familiar on a scale from 1 (marginal) to 5 (distinguished).
Since its inception in the mid-1980s, the U.S. News college ranking, which groups schools based on categories created by the Carnegie Foundation for the Advancement of Teaching, has grown to be one of the most comprehensive research tools for students and parents considering higher education opportunities.