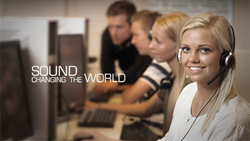 "We are very excited to have 1450, Inc. as a distribution partner," says Dave Petricig, Sales Director of North America for ADDASOUND.
Chicago, IL (PRWEB) September 11, 2014
ADDASOUND is pleased to announce they have signed a North American distribution agreement with 1450, Inc. for their full line of corded and cordless headsets. Headquartered in Denmark, a country that leads the world's sound technology, ADDASOUND is a top global manufacturer and provider of intelligent voice and unified communication devices.
The founders are a reputable team with strong expertise in electro-acoustics, whose members built an international reputation through developing and designing many award winning products. Our products target users from multiple vertical markets and environments such as call centers, office users and mobile workers. In Denmark, ADDASOUND is equipped with the world's most advanced electroacoustic devices, providing powerful support for products' design, development and testing. Our high quality noise cancellation headsets are designed for three major markets: Call Centers, Office Workers and Mobile Workers.
With multiple lower Quick Disconnect (QD) cords for Cisco IP phones, Avaya 1600/9600 phones, generic direct connect (Polycom, Aastra, Mitel, ShoreTel, etc.), USB and 3.5mm jacks we can cover the majority of your customer's needs. Building on the successful history of acoustic companies based in Denmark, we at ADDASOUND believe that the trend goes further towards hands-free communication and natural sound.
1450, Inc. is the nation's best value added distributor of technology for physicians and other professional vertical markets. Founder and CEO, retired orthopedic surgeon, Eric Fishman, M.D. has over 19 years of experience in the speech recognition industry, and is a key figure in the EHR and medical documentation fields. With his experience in the medical field and Health IT landscape, Eric has catapulted 1450, Inc. to be a principal player in EHR and Speech Recognition integration.
"We are very excited to have 1450, Inc. as a distribution partner," says Dave Petricig, Sales Director of North America for ADDASOUND. "Their expertise, focus and customer base of speech recognition software resellers is a perfect complement to our monaural and binaural headsets with a USB Quick Disconnect cable."
"1450, Inc. is always on the hunt for the latest hi-tech hardware vendors to partner with, and we are stoked to help bring Addasound to the North American Market," says Eric Fishman, President & CEO of 1450, Inc. "We are thrilled to work with such a value driven partner as ADDASOUND. Together, we see a future of unlimited potential combining our technical and economic resources as well as the mobility and innovation that Addasound brings to 1450."
1450, founded in 1997 to provide the finest in distribution in whichever field it addresses, has been headquartered in Palm Beach County, FL since its inception. Owned by a physician and attorney, the founders' attention to detail and quality pervade all aspects of its business activities.
For product and pricing information please feel free to contact either ADDASOUND or 1450, Inc.
ADDASOUND website: http://addasound.dk/en.aspx
Contact Information:
Dave Petricig, Sales Director of North America
north_america(at)addasound.dk
Phone: 708-308-7446
1450, Inc. website: http://www.1450.com/
Contact Information:
Steven Krueger, Director of Sales & Operations
Steven.Krueger(at)1450.com
Phone: 888-848-1450