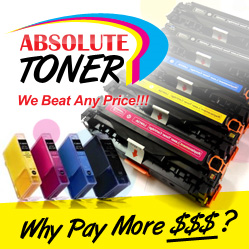 Choosing the right toner cartridge is not always easy
Toronto, Ontario (PRWEB) September 10, 2014
Absolute Toner is ready to help people save money and get the high quality toner they need for their Brother laser printers by offering the compatible Brother TN-330 Black Toner Cartridge. This is a way for people to lower their printing costs without sacrificing quality.
Find out more at: http://www.absolutetoner.com/brother-toner-cartridges/1346-brother-tn330-toner-cartridges-compatible.html
OEM vs. Compatible vs. Refurbished
When it is time to replace the toner for a laser printer, there are three main options that can be found. Original equipment manufacturer, refurbished and compatible toner cartridges are available when replacing the Brother TN330. Choosing the right toner cartridge is not always easy. There are differences in the three types. The major differences that can be found are in the quality of the toner cartridge, the amount of pages that the cartridge will print and the cost. It is best to find the cartridge that is able to handle all three of these areas in the best way.
Original equipment manufacturer (OEM) toner cartridges are the made by the company that also made the printer. It would seem that these would be the best fit for a laser printer. They are made specifically for that printer. They are supposed to be made with new parts. What they are not, is cheap. OEM toner cartridges can cost twice as much or more than other types of toner cartridges. Customers are paying for the brand and that is not usually the best decision.
Refurbished toners cartridges use old OEM cartridges that are cleaned up, refilled with the toner powder and checked to make sure they work. These cartridges will cost less than the OEM toner cartridges, but they are more prone to breaking down and not lasting as long as expected.
Compatible toner cartridges offer many advantages over the others. They are the cheapest that can usually be found. They are made from new parts and are not prone to breaking down prematurely. They will print as many, if not more pages than the OEM cartridges.
What to expect from this cartridge
When Absolute Toner made the announcement about the availability of the compatible for Brother TN330 toner cartridge high yield, the one question that is being asked is what to expect from it. According to the representatives at Absolute Toner, these cartridges will print about 2,600 pages at a 5% coverage. Absolute Toner's compatible for Brother TN330 toner cartridge will work in the same way as the OEM cartridges. These cartridges have been proven to be as reliable as the OEM and will not damage the printer in any way.
The other thing to expect is to pay less for this cartridge than for the OEM cartridges. With prices below $20 compared to the price of the OEM at around $50, the compatible cartridge offers a significant savings. When that is combined with the high yield it becomes easier to see why this announcement is so important. Learn more here http://www.absolutetoner.com.
It is a good idea to take the time to research the difference between the types of toner cartridges to help make the best decision. Make sure to look at the price, the yield and the quality, to find the toner cartridge that makes the most sense.