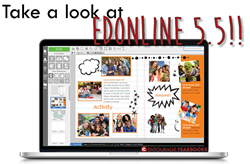 The new changes are great! It's much easier to navigate than the previous version
Princeton Junction, NJ (PRWEB) September 10, 2014
National yearbook company, Entourage Yearbooks, launched the newest release of their online yearbook software on August, 27th 2014. The new release, EDOnline 5.5 focused on ease of use, speed, and added resources.
"The yearbook experience this year is going to be quite a bit different than last year in that the interface is cleaned up, easier to understand, and more responsive," said Entourage Yearbooks Web Team Leader, Nicole Lipnitz. "Most of tools and functionality of last year's EDOnline have been maintained in the new version, but they are easier to find and to use."
The yearbook design software now features larger photo previews and more "view" preferences for users who are making yearbook pages. Students can now utilize features that professional graphic designers do, like grid lines, to promote better design structure through the book.
EDOnline 5.5 does include some major changes too. The new release includes a new "page move" feature where students and yearbook advisors can rearrange the order of their yearbook pages in seconds. Yearbook advisor, Brandi Woten, said, "The new changes are great! It's much easier to navigate than the previous version".
Also included in the 5.5 release is a new student data management system. "Now when users import all of their student portraits and names into the system, it's much easier to navigate and edit all of that data," said Lipnitz. "Users can now make updates to large groups of students at once."
EDOnline 5.5 also features a more robust "help" database. Users will be able to find more articles, videos, and comments on all yearbook topics spanning both technical and general subjects. The updated "search" tool allows users to quickly find answers to their questions without having to browse through the full catalog of help resources.
"We've really done a lot to update our resources library this year," said Lipnitz. "We've added over 1000 new templates, backgrounds and clipart elements to the site." The new additions include more full book templates for schools that are interested in carrying the same theme and look through the whole book. "Many of the new templates are also award winners from our annual national yearbook contest," said Lipnitz.
Finally, EDOnline showcases a new Facebook-like news feed that updates frequently with notifications of activity on the yearbook account. Users will see when new photos or videos have been uploaded, notifications from the yearbook staff, and from Entourage Yearbooks.
More about Entourage Yearbooks:
Founded in 2006, Entourage Yearbooks provides yearbooks to over 3,500 schools across the US and in 18 countries around the world. Entourage's unique collaborative yearbook technologies and industry leading production times has made the company one of the fastest growing in the country, recently recognized by Inc. Magazine as the 17th fastest growing private education company in the US. For more information about Entourage Yearbooks, visit http://www.entourageyearbooks.com.