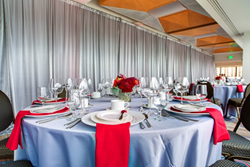 Book your holiday party today to save!
Seattle, WA (PRWEB) September 11, 2014
The Downtown Hilton Seattle hotel is offering a special booking incentive for companies and organizations who book their 2014 holiday party in the hotel's newly renovated event space. Parties with 25-75 guests may select one incentive from the list below, 76-150 guests are allowed two incentives, and over 151 guests may choose up to three incentives. Incentives include:

Complimentary red/green napkins
2% rebate on master bill, before taxes
10% off food and beverage minimum or room rental
Complimentary holiday keepsake for each guest
Complimentary gift certificate for a one night stay for two guests, with breakfast
Contact Sales and Catering office at (206) 695-6060, for more details and to start planning your Seattle holiday party today!
The completely renovated downtown Seattle Hilton hotel proudly offers 6,000 square feet of flexible meeting space, a convenient downtown location and luxurious accommodations with panoramic views of Seattle and the Olympic Mountains. Upgrades to this Downtown Seattle hotel include a new restaurant specializing in contemporary American Cuisine with a Pacific Northwest flair, the addition of a new Executive Lounge on the top floor featuring panoramic Seattle views, upgrades to the street level hotel entrance, and complete renovations to the lobby, front desk, Lobby Lounge, and function space. The most notable renovation is the Top of the Hilton, which is now a top floor meeting and banquet space and features breathtaking views of Elliott Bay, Seattle skyline, and the iconic Space Needle.
The downtown Seattle Hilton hotel is the perfect destination for leisure and business travelers alike. Guests enjoy a central location with close proximity to Pike Place Market, the Washington State Convention Center and many great Downtown Seattle dining and shopping options. Amenities include a fitness center, room service, business center, concierge services, on-site parking, over 6,000 sq. ft. of versatile meeting space, multi-lingual staff, in-room mini-refrigerators, and much more.