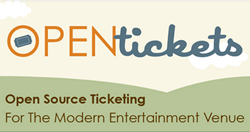 The intended purpose of OT-CE is to establish a relationship between the open-source community and ticket sellers as a means of combating rising ticketing service fees. In recent times, ticket fees can raise the original ticket pricing by as much as 40%
(PRWEB) September 11, 2014
Today OpenTickets Community Edition ("OpenTickets-CE"), a free open source WordPress plugin that allows you to publish events and sell tickets online, is available at http://wordpress.org/plugins/opentickets-community-edition. OT-CE was created by Quadshot Software LLC ("Quadshot"), a WordPress developer based in Henderson, NV.
The intended purpose of OpenTickets-CE is to establish a relationship between the open-source community and ticket sellers as a means of combating rising ticketing service fees. In recent times, ticket fees can raise the original ticket pricing by as much as 40% (source: MSN Money).
Quadshot Founder and CEO Michael Cremean said "OpenTickets Community Edition was created to allow people with WordPress websites to easily setup and sell tickets to their events. We wanted to provide venues and event organizers who run their own WordPress websites an easy way to sell tickets online."
Event and venue managers using OpenTickets-CE are able to sell to their customers without any added fees and reduce their ticketing-related expenses.
OpenTickets-CE only requires WordPress and WooCommerce to operate. WordPress is the most popular website publishing system powering over 20% of the top 10 million websites. WordPress is open source available at http://wordpress.org. The most widely installed ecommerce platform for WordPress, WooCommerce is also open source and can be downloaded at http://woocommerce.com.
Once both WordPress and WooCommerce are installed, the free plugin can be added and users can start operating their own ticketing platform from their website. Further information and instructions are available at http://opentickets.com/community-edition.
The OpenTickets-CE plugin empowers functionality to:

Publish Venues
Publish Events
Display Calendar of Events
Create and Sell Tickets
Allow Customers to keep Digital and/or Print Tickets
Checkin People to Events with a QR Reader
Ticket Sales Reporting
OpenTickets-CE is licensed under the open source GPLv3. When asked how and why this software is free, Cremean replied "We believe that the world needs an alternative to the expensive closed source systems used to sell tickets. Service fees are out of control and we want people that use OpenTickets Community Edition to be able provide a better value to their customers. In today's world, there is no reason to have these ridiculously high fees for selling a ticket to an event."
More information can be found at http://opentickets.com