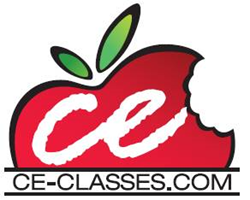 "Helping to prevent Domestic Violence can have a huge impact in people's lives."
Miami, Florida (PRWEB) September 10, 2014
CE-Classes.com has announced that it will provide free information about domestic violence. The material will identify risky behaviors, risk factors, consequences, treatments and methods for preventing domestic violence. This will serve as an excellent resource for individuals and mental health professionals who would like to build or refresh their knowledge about intimate partner violence.
"In light of the sad situation involving Janay and Ray Rice, we thought that providing free information regarding Domestic Violence to the general public and to healthcare workers would be beneficial," said Ron Black, president of CE-Classes.com. "Helping to prevent Domestic Violence can have a huge impact in people's lives."
Appropriate for both the general public and all levels of healthcare practitioners, the course will define domestic violence as the use or threat of use of physical, emotional, verbal, or sexual abuse with the intent of instilling fear, intimidating, and controlling behavior. Domestic violence occurs within the context of an intimate relationship and may continue after the relationship has ended.
This course is designed as a resource that allows providers access to information and instructions about education regarding domestic violence, skills for engaging individuals involved with domestic violence, research and treatments.
Domestic Violence The Basics is one of only numerous courses offered at the CE-Classes.com website. Any level healthcare provider that wishes develop an understanding of domestic violence treatment or licensed clinicians who require continuing education courses for license renewal are welcome to register here.
About CE-Classes.com
CE-Classes.com is committed to helping individuals earn continuing education credits in the most efficient, easiest and most cost-effective way possible. For over 15 years, CE-Classes has provided online courses, live seminars and webinars that are approved for various health care professionals for continuing education credits by a number of state and national boards and also serves a wide range of licensed professionals such as mental health counselors, therapists, psychologists, nurses and social workers. Individuals are given the option to choose between purchasing one or two courses or the Unlimited Online Courses Package for a year.
CE-Classes.com possesses multiple approvals such as American Psychological Association (APA), Association of Social Work Boards (ASWB), National Board for Certified Counselors (NBCC) and National Association of Alcoholism and Drug Abuse Counselors (NADACC). The courses offered are accepted nationwide.
For more information, click on Domestic Violence.