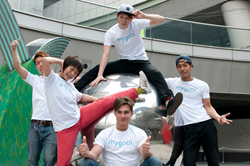 DES MOINES, Iowa (PRWEB) September 09, 2014
Alex Benedikz, from Stockholm, Sweden, will be visiting Mygooi headquarters in Des Moines starting tomorrow, says company chief marketing officer Jon Buscall. Benedikz has been a gooi ambassador in Asia, heading street teams spreading GooiNation's disruptive networking message in Hong Kong, Guangzhou, Taiwan and Japan. He will be in Des Moines through the end of November.
Benedikz, 22, a former soccer pro, has been studying Japanese in Osaka since January. He has worked in event hosting with Stockholm's JontusMedia, a creative marketing firm. "One of the gooiest things Alex has done so far was to be in an episode of the comedy show 'Welcome to Sweden,' which aired on national Swedish TV in June," said Buscall.
The GooiNation Street Team began its World Tour in April and has visited a range of cities in the U.S. and countries in Europe and Asia, including the Netherlands, the United Kingdom, France, Spain and India. The team – digital, fun, energetic, creative, disruptive, global – reaches out to people from all walks of life, stopping to say hello, hand out T-shirts and share a smile.
Buscall said, "I'm delighted Alex is going over to Des Moines to work with the folks at Gooi HQ. He'll help the team reach out to local businesses and especially connect with young people in Des Moines and other cities. He's one of the rare people who would walk up to strangers wearing a horse mask and persuade them to wear a gooi T-shirt."
Benedikz said the team spreads the gooi message of fun, creativity and international friendship, putting pictures and video clips on Facebook, instagram, Imgur and tumblr so everyone can share some #gooilove.
"We're making people happy with the energy and openness we're bringing," says Mygooi CEO Paul N. Greenwood, adding that the company has created smart phone applications to expedite its messages. "Our gooiSocial app lets people share things they love, and our gooiDevelopment unit creates custom business apps that allow clients to better manage their operations, particularly in the area of safety."
About Mygooi
Mygooi™ is an energetic brand platform that is digital, creative, disruptive and global. Its portfolio of emerging products sizzle with IC/DC (Innovation and Creativity/Disruption and Community). Mygooi's utility and purpose are to bring people together with innovative digital products. Based in Des Moines, Iowa, and Chennai, India, Mygooi lives where the sun always shines and has as its mission to Go Where The Life Is.™
See Mygooi updates and watch GooiNation grow on Facebook at https://www.facebook.com/mygooi.
Visit our website and download apps at http://www.mygooi.com.
Mygooi supports the Cystic Fibrosis Foundation. Check them out at http://www.cff.org.
Media Contacts:
Jon Buscall, CMO
Mygooi
+46768637285 / jonb(at)mygooi(dot)com
Mark Perlman
Mygooi
312-315-0707 / Markp(at)mygooi(dot)com
Richard Greb
Mygooi
847-651-1445 / Richardg(at)mygooi(dot)com