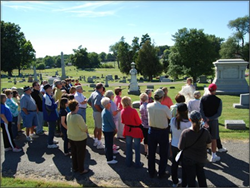 This event really brings alive the history of Henderson's residents in an interesting, new way. It's been a popular event, and we're glad to see it continue to grow and improve each year. - Jessica Mitchell, Marketing Director, HCTC
Henderson, KY (PRWEB) September 10, 2014
Local historian and tour guide Frank Nally will share the history of the city's oldest municipal cemetery as well as introduce visitors to former Henderson residents who now reside in Fernwood Cemetery, during the Depot Community Room's fourth annual Fernwood Cemetery tour on Saturday, September 13, 2014.
Among the historical residents portrayed during the tour, attendees will meet the man responsible for the beginning of Douglas High School, a local artist with New York ties, a former circus performer, and an early politician who stood up for women's rights.
Two tours are scheduled, one at 3 p.m., and one at 4:30 p.m. The tours begin at the Department of Parks and Recreation office at 920 Madison Street. Tickets are $10.00 for adults and $5.00 for students, with proceeds being used for monument restoration. Tickets can be purchased at the Depot Community Room Monday through Friday from 10 a.m. to 4 p.m. and Saturday from 10 a.m. to 2 p.m. Call 270-830-9707 for more information.