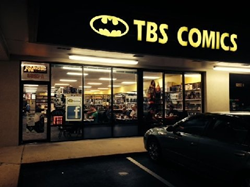 Fort Walton Beach, FL (PRWEB) September 09, 2014
TBS COMICS recently opened its new location at 6895A North 9th Ave. in Pensacola in early September. This exciting new store is much larger (4,500 square feet) than the previous location at 6873 North 9th Ave. and offers everything collectors need for a complete comic book and gaming experience.
TBS COMICS was previously located next to Firehouse and Dollar Tree in the Belvedere Plaza at the corner of 9th and Creighton. Their original location served the Pensacola area for more than 20 years. The new location is 3,000 square feet larger than the old one. The new location is across the parking lot from the old one between Richey's Liquor and Batteries+Bulbs.
TBS COMICS has always been the place to explore the world of comic books, trading cards and games. Avid collectors can find even more now at the new location. The new Pensacola store contains more than 50,000 comic books and graphic novels ranging from the 1960s to the present day. TBS COMICS receives new-release comics every Wednesday. They also carry an extensive line of board games, card games and miniature games. TBS COMICS' expanded store and huge inventory make it the largest comic store on the Emerald Coast.
Readers of all ages can find something they'll enjoy, including best-selling Marvel and DC Comics, as well as non-superhero comics like Walking Dead, SAGA, Star Wars, Fables and America Vampire. TBS COMICS is more than just comic books, though. They offer 2,000 square feet of table-top gaming space where visitors can find local gamers playing a host of popular games like Magic the Gathering, Yu-Gi-Oh!, Warhammer, Warmachine and all kinds of new- age board games.
To check out a list of events or find out more about the new store location, check out TBS COMICS' website at http://www.tbscomics.com/.
TBS Comics has been the premier comic book store serving Northwest Florida since 1985 with locations in Fort Walton Beach, FL and Pensacola, FL. At their locations, customers will experience the largest selection in the area of all their customers' favorites and more! Specializing in all things comics, anime, sports and gaming, TBS Comics is the comic book store of choice when it comes to satisfying any and all comic interests and needs.