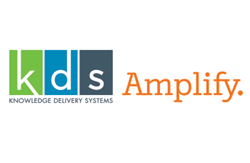 "Our ultimate goal in giving teachers access to great professional learning is to help them transform their practice and reach every learner."—Alvin Crawford, KDS CEO
New York, NY (PRWEB) September 10, 2014
Knowledge Delivery Systems, the leader in research-based, blended professional learning for K-12, has partnered with Amplify, an education technology company, to develop a powerful new course that helps teachers harness data to inform instruction.
Through their work in school districts across the nation, KDS and Amplify have seen firsthand the need for educators to gain the skills necessary to leverage data to bridge the divide between instruction and personalized learning to increase student performance. In response, their new online course, "Taking Action with Data," authored by leading subject matter experts and researchers, provides school districts with practical approaches toward raising student achievement.
The course is unique in that it guides educators through the cycle of collecting data, using data to inform instruction, analyzing results, and modifying instruction to help students gain mastery. It also covers differentiated instruction strategies and promotes colleague collaboration to support continued growth. The engaging course experience gives educators access to real classroom footage of strategies in practice, as well as tools to organize data and make data-informed decisions.
"For over a decade, Amplify has worked hand-in-hand with districts across the country to give teachers the tools they need to make meaningful use of data," said Leslie Kerner, Senior Vice President and General Manager of Professional Services at Amplify. "We're confident that Amplify's content-rich materials and innovative approach, combined with KDS' interactive course experience, provides teachers with a great opportunity to develop valuable skills."
Alvin Crawford, KDS CEO, stated, "The power and reach of KDS' online, blended, adult learning environment allows us to scale Amplify's proven expertise and help educators understand and use data to increase student performance. We are excited to work with Amplify and empower districts and educators to develop an action plan that informs instruction, individualizes learning for students, and improves student learning outcomes. Our ultimate goal in giving teachers access to great professional learning is to help them transform their practice and reach every learner."
About Amplify
Amplify is reimagining the way teachers teach and students learn in K-12 education. Our products are leading the way in data-driven instruction, breaking new ground in mobile learning and setting the standard for next-generation digital curriculum and assessment. And our professional services team, with years of classroom experience, helps schools implement digital solutions to meet their local conditions.
With headquarters in New York City and more than 1,200 employees across the country, Amplify is led by a team of digital education experts and has provided innovative technology to the K-12 market for more than a decade. It is built on the foundation of Wireless Generation, the pioneer that brought mobile assessments and instructional analytics to schools across America. To date, Amplify has supported more than 200,000 educators and 3 million students in all 50 states as they begin their digital transition.
To learn more about the Amplify System, please visit: http://amplify.com/tablet.
About Knowledge Delivery Systems
Knowledge Delivery Systems (KDS) is the leading provider of research-based, blended-model strategic professional development solutions for districts, schools, and teachers. KDS' mission is to help school districts and states transform professional development to dramatically improve teacher effectiveness and raise student achievement. KDS solutions systematically build district-wide capacity to address their most important challenges—closing the achievement gap, Common Core instruction and assessments, cultural competency, diverse learners and differentiation, coaching and instructional leadership, and 1-to-1 classrooms. KDS online courses are developed by the nation's leading education experts and researchers and are delivered on the KDS Professional Learning Platform (PLP).
For more information, please visit: http://www.kdsi.org. To learn more about PLP, visit http://info.kdsi.org/plp.