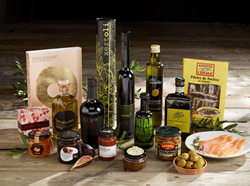 "We fell in love with the purity and vibrant flavors of Mediterranean foods while living in Spain as children..."
Toano, VA (PRWEB) September 12, 2014
It's long been believed that a Mediterranean diet - one that's rich in olive oil, nuts, beans, fish, fruits, vegetables and wine - was good for you, but until last year it had (surprisingly) never actually been proven. Then came the results of The New England Journal of Medicine's first major clinical trial showing that the diet reduced the incidence of heart disease among persons at high risk, creating a renewed interest in the foods grown and produced in this region famous for its flavorful and healthy foods.
It can be challenging enough for small, U.S. based food producers to jump through the hoops required to sell products in the U.S., and harder still for small international producers to enter the market. Enter La Tienda, the first and largest online seller of artisan Spanish foods in the U.S., and ACCIO, a government organization focused on fostering economic opportunity for Mediterranean small businesses.
"We fell in love with the purity and vibrant flavors of Mediterranean foods while living in Spain as children, long before this way of eating was labeled. We didn't need anyone to tell us that foods being grown in this region were special and that they were good for us to know that it was true," says Jonathan Harris, one of the owners of La Tienda, a family owned company based in Virginia. "When ACCIO proposed partnering to help more small food producers from this region enter our market, we jumped at the chance to help make it happen."
ACCIO is the Catalonia Trade & Investment Organization, a government group devoted to promoting business from the Catalonia region of Spain. They have been instrumental in organizing this groundbreaking effort to help small artisan businesses from the region enter the U.S. market. They have offices in Washington, DC, New York, Miami and Silicon Valley.
La Tienda has promoted artisan foods from across Spain since 1996 through its website and print catalog. Each year it delivers tens of thousands of orders to homes across the U.S.
The new products are being introduced September 2, 2014 and will be for sale exclusively at LaTienda.com.
The lineup includes:
Whole Strawberries Dipped in Dark Chocolate by Luxocolat
Deluxe Gift Box of Crackania Chocolate Covered Almonds
Azahar Honey with Valencia Orange Peel by Amanida
Serraferran Extra Virgin Olive Oil
Candied Figs by Can Bech
Llum del Mediterrani Extra Virgin Olive Oil Coupage
Xertoli Coupage Extra Virgin Olive Oil in Gift Box
Deliterranea Apricot Preserve
Oleura Organic Extra Virgin Olive Oil
Ylla Black Olive Pâté
Nian Arbequina Extra Virgin Olive Oil
Les Partides Extra Virgin Olive Oil
Gordal Olives in Classic Marinade by Amanida
Mas Tarrés Extra Virgin Olive Oil PDO Siurana
Artisan Anchovies by Anxoves de L'Escala
Hardwood Smoked Salmon by Royal
Gift Pack of Infused Extra Virgin Olive Oil by Aromàtics del Mediterrani
Torres Black Truffle Potato Chips
To learn more about each product and purchase them online, visit LaTienda.com/MediterraneanDiet